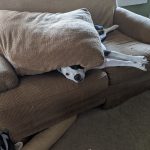 Hey there, friends.
Tuesday Tidbits are back, but they're not back in their original form. While I know stores are hurting right now, and some events are still happening, I can not in good conscience recommend places for people to go when there looks to be no end to this pandemic. So, instead, it's going to be shorter, with an update on things happening around the Geek Cave, cool things I'm hearing about in not only the local Geek community, but in Geekery in general, and on occasion, a link to a cool online event for you to partake of! Also, of course, pics of the Geek Pets!
It's going to take me a few weeks to get back into the swing of things, so please be patient with me. In the meantime, here's some things that have been happening around the Geek Cave since I last wrote about it this past May.
Dang, it has been a while, hasn't it?
Geek Building
This is where most of my energy has been going over the past few months.
3D Printing – I've received all of my new printers, and here's the breakdown on each one (all product links are Amazon Affiliate Links, in case you're crazy enough to try to get one of these).

Creality CR-10 S4 – This is the big boy. This is the one I ordered, so I can print out helmets and armor pieces in one large piece, as opposed to many small pieces I would have to then perfectly line up and glue together. It took a bit for Lizz and I to get it up and running, but when we did, we got some great pieces. We started with some Groot planters we're making for family, and then I started my second attempt to print a full size helmet. Two and a half days into the print, the printer failed. It had a "thermal runaway error" and this printer is currently sitting in pieces on the kitchen table, waiting for me to order some replacement parts to get it back up and running.
ANYCUBIC Photon – This is the smallish (in comparison to the first printer listed here) resin printer I picked up. I got this one mainly for smaller detail pieces, and D&D miniatures. I've really gotten used to it, but it does have a scent when it's running, and if you can smell it, that means it's not healthy. It's currently set aside, waiting for the ventilation system to be built for both it and the CR-10, because I'll need that vented when it's running ABS. Other than the smell and the mess, it's a fun printer that's put out some cool stuff.
Creality Cr-6 SE – This ran on Kickstarter back at the beginning of the pandemic, and it's been a ride. Creality makes affordable printers, and sometimes that's good, sometimes that means cut corners (look at the CR-10, above). This one, well… first, the Kickstarter had different levels for people getting printers early, and all that jazz, and then after it wrapped up, Creality started shipping only those printers that didn't have any add-ons out, to the countries that had the highest number of orders. So, if you paid for an early one, and you were in a country with low orders, then you were SOL. Then, they started becoming available at retail before all backers got theirs, so this has a lot of people upset. Myself, I received mine last Wednesday, the 26th. Before I even pull it out of the box, I see reports of some machines shorting out their motherboards right out of the box. Seeing the luck I'd had with my other printers, I was recording and waiting for that to happen the first time I fired it up. However, the assembly on the machine was simple, it fired up without a problem, and it's currently running its 8th print, almost all of which have been flawless. This printer is fairly quiet (all I hear is the fan), has a digital interface, and it self-levels. To be 100% honest, using this printer has been the most stress-free 3D Printing experience I've had in the past year and a half of trying to figure out this hobby.

Costuming – I still have a list of projects I need to work on, but the basement is dark and damp and not comfortable. New lighting was installed over the weekend, though, so I've knocked out one of those excuses. Once I get back to work on those, I'll throw up the info on here, and on their own blog posts. My focus right now is wrapping up the Resistance Pilot helmet, reassembling my Rebel Fleet Trooper helmet, fixing and cleaning up the Nerf Rebel Fleet Trooper blaster so it's costume-worthy, and slowly piecing together the parts for a Ghostbusters proton pack and ghost trap, which will involve some 3D Printing, some off the shelf items, and a whole lot of patience.
Other Geekery
Today's Picture – The Geek Dog, sleeping under one of the couch cushions, like it's normal. Dog, that's not normal.
Geeking @ Home Con – It hasn't received much attention since around Indy PopCon, but I'm keeping it up. In fact, I'm looking to move it over to its own site over the course of the next month or so, so I can get things set up to show off the vendors a bit better. In the meantime, take a peek over there, and help out those vendors who are having a very rough year, with convention cancellations and all that jazz.
Streaming – I've had some things I've been working on learning after work, so my Twitch streaming has been pushed aside for a bit. However, I'm still streaming with The Andromeda Initiative for Extra Life once a month, so feel free to visit over there and see what's up. You can find us over at AndromedaGalactic, so give us a follow! We stream monthly, and we also mirror Andromeda team member's streams.
Patreon – I haven't been charging my Patreon supporters the past few months, because let's be honest, I haven't been doing much to earn their support. However, starting this past Sunday, I'm back to giving weekly updates, not necessarily for the blog, but for some projects I'm working on that I'm not currently going to be writing about. These sneak peek posts are holding us over as I redo Patreon, and start it back up on October 1st. So, for right now, I'm not encouraging you to back me. I'll be doing that again come October 1st. 😉
Okay, I think that's enough fluff for this week. Starting next week, I'm going to post online events and concerts, as well as other tidbits that I've found interesting through out the week.
Stay safe, wear a mask.
Tony