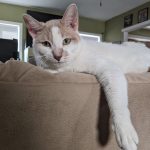 Happy Tuesday, my friends!
I hope everyone is staying healthy and wearing their masks! It's another Tuesday here at the Geek Cave, and let me tell you, looking for "online only" events on Facebook is not easy! Sure, they might say they have a filter set up for them, but no matter what, you're going to get a ton of biker gatherings in North Carolina. Due to this, we don't have much up this week. However, I'm still going to try to spend some time every day to poke around social media and other websites, trying to find cool things happening online. If you want to lend a hand, feel free to post in the comments about something you know is coming up, so I can check it and probably get it in here!
With this said, I'm going to go ahead and jump into what's happening.
What's happening for Online Geeks?
Let's look at September!
September 18th – 20th: Virtual HorrorHound Weekend! The show is going online! If you're a fan of horror, you might want to check this out!
October is right around the corner!
October 9th: Kinda Nerdy Night Out at the Drive In! Okay, it's not a virtual event, but a drive-in theater is good social distancing and gets you out of the house pretty safely. Our friends with the Kinda Nerdy Girls Podcast are hosting an 80's drive-in night. Check the link to keep up with information as it comes in!
Support Local!
This week, I want to give another shout out to Bath Omens! Ran by Jess, who many of you might know as Kahahuna, this is a great place to get handmade soaps, bath bombs, shampoo bars, and other fun, smell-good items. Personally, I am a fan of the shampoo bars, and both Lizz and my mother think her bath bombs are great. You need to stay on top of it, though, because she makes everything by hand, and items sell out quick!
What's happening at the Geek Cave?
Today's Picture: The Geek Cat, just relaxing on the back of the couch, enjoying his Caturday a few days ago.
Support Team Geeking: Do you want to know how you can support the folx who bring you the blog, podcasts, and everything else we do?

TikiKitchen Inc.! All of the branding images you see on the blog are thanks to the fine folx at TikiKitchen! They have been indispensable to the blog ever since I started getting serious with it a few years ago. Take a look, and see if they can help you with your branding, website design, and more!
Geeking in Indiana! That's us! Here's a blog post that tells you how you can help the blog with recurring bills, and new equipment costs.
As always, we hope you have a great week! Remember, if you have an online event coming up, either leave the info in the comments below, or drop it to me using any of the contact methods listed on the sidebar!