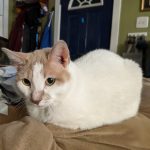 Happy Tuesday, my friends!
Have you ever had those times when you've got too much to do, and too little time to do it in? That's kinda where I'm sitting with October, right now. Still, I've promised to get you all weekly Tuesday Tidbits again, so here I am!
Plus, my Mouse sander isn't in until tomorrow, so I'm at a stand-still on one of my projects.
Anyway, even with me being tight on time, I'm trying not to slack off on all of you. I've got a new in-person, yet outdoors and socially distant, event up on the calendar, and I've fleshed out the Podcast section, as well as the "What I'm Reading/Watching/Playing" section. In fact, the podcast section now let's you know when the most recent episode (at least, as of the writing of this blog post) was posted, and what it's about!
With this said, I'm going to go ahead and jump into what's happening.
What's happening for Online Geeks?
October starts on Thursday!
November? Not too far off, honestly.
Buy Local!
Listen Local!
You probably have an abundance of time on your hands, still, so why don't you fill your earholes with the voices of some of your favorite local Geeks? Here's a rundown of the local Geeky shows that I'm aware of, and when their most recent episode was. Note that if I mention something is a "story-based podcast," you might not want to start with the most recent episode!
What's happening at the Geek Cave?
As always, we hope you have a great week! Remember, if you have an online or outdoor event coming up, either leave the info in the comments below, or drop it to me using any of the contact methods listed on the sidebar!