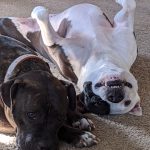 Happy Tuesday, my friends!
November has started, people are voting today, and real life is gonna be hell for the next few weeks. Fall has officially fallen, with cooler temperatures that have soups and stews on deck for the Geek Cave Kitchen, and I'm finally taking a breath and trying to catch up on a lot of work. With VoltCon in the rear view mirror, I can safely say I'm pretty much done with people until at least April of 2021. Between this and my social media "office hours" that I'm starting to do, I'm looking forward to having more time to build things, get my equipment up and running and maintained, playing games with my family, and maybe playing through some of the pile of unplayed video games that I have (though honestly? I'll probably be playing Animal Crossing again… and again…).
Before we roll into the listings, I'd like to once again remind people about this weekend's Extra Life Game Day. I haven't pushed it too awful much this year, because of everything that's been going on, pretty much everywhere. However, a children's hospital is a very worthwhile charity, so I am going to push it even more this week. I'm planning on streaming from 10:00 AM Eastern until 8:oo PM Eastern on Saturday, November 7th, and I've got a rough idea of the schedule down in the event listing.
With this said, I'm going to go ahead and jump into what's happening.
What's happening for Online Geeks?
November? We're here.
November 3rd: Election Day, Absentee Ballots must be received by this day via mail, or by noon in person!
November 7th: Extra Life Game Day! While my team has been doing stuff all year, I do want to get in and do some stuff on Extra Life Game Day! I've got a rough schedule of events down below, so feel free to pop in, say hi, and throw a few bucks at the kids. So, subscribe to my Twitch channel at the link above, and you can always give through my Extra Life Page!

10:00 AM – Some coffee and some Animal Crossing New Horizons
12:00 PM – Group Viewing of Star Trek: The Wrath of Khan. Amazon Prime required.
2:00 PM – Ghostbusters: The Video Game
4:00 PM – Group Viewing of Star Trek: First Contact. Amazon Prime required.
6:00 PM – Up in the air. Ideas?

November 14th: Virtual THANKS4GIVING 2020! Hosted by Who's Yer Gamers, their yearly fund drive is going virtual. Instead of cans of food, they're asking for a $10 donation, to go towards the Anchor House Family Assistance Center and Pantry. Watch the page to see what's happening on which platform!
Buy Local!
This Week: ElisaMakesArt! Elisa is someone I've known via social media for a few years now. I am a supporter of her Patreon, I have commissioned artwork for a Twitter picture before, and now I am telling you to check out the art of someone who is cool enough to wear a "Geeking in Indiana" shirt to a meet and greet table at Comic Carnival! Check out all of her sites at work at this link!
Past Artist: Let's take a look at local artist David Lee Pancake! If you have ever gone through Artist's Alley at Gen Con, you will recognize his fantasy and science fiction art and sculpture. Take a look at his site, and get some stuff to change up the looks of the walls you've been staring at since March!
Past artist: Bath Omens! Ran by Jess, who many of you might know as Kahahuna, this is a great place to get handmade soaps, bath bombs, shampoo bars, and other fun, smell-good items. Personally, I am a fan of the shampoo bars, and both Lizz and my mother think her bath bombs are great. You need to stay on top of it, though, because she makes everything by hand, and items sell out quick!
Listen Local!
You probably have an abundance of time on your hands, still, so why don't you fill your earholes with the voices of some of your favorite local Geeks? Here's a rundown of the local Geeky shows that I'm aware of, and when their most recent episode was. Note that if I mention something is a "story-based podcast," you might not want to start with the most recent episode!
Anthology – The Twilight Zone Podcast (8/13/2020) – Currently on a brief hiatus, their most recent episode takes a look at the 6th episode of the second season of the CBS All Access series, The Twilight Zone.
The Brandon Peters Show (11/02/2020) – Brandon's most recent episode as of this writing has him being joined by Sabina Graves to talk the classic Addam's Family Values.
Comic Carnival Comic Junkies Podcast (10/31/2020) – Geeking alert! The new episode is up, and it features me sitting in, as I was coaxed out of seclusion last June.
The Established Facts Podcast (9/23/2020) – The crew talks about some of the silver linings of 2020.
The Five(ish) Fangirls Podcast (10/27/2020) – This episode, they take a look at the classic, Clue.
Heart Beats: A Heartwarming Fantasy (10/19/2020) – "The Heart Witch" is the most recent episode of this story-based podcast.
Kinda Nerdy Girls Podcast (11/01/2020) – Concerns about Star Wars viewing order, Anakin's hair, and favorite DC characters are just a few of the topics in this episode.
The Nerds You're Looking For(11/02/2020) – Pat and Tyler talk the rest of Shocktober.
The Obsessive Viewer Podcast (11/2/2020) – Matt and Tiny look at some of the stuff they watched at the 29th Annual Heartland Film Festival.
Red Mage Blue Mage (11/02/2020) – This week, "The Return of the Cackler."
Shapeshift (10/29/2020) – "Soggy Moles" is the lasted episode of this story-based podcast.
Tales from Mauxferry (10/20/2020) – "The Spaghetti Masters" is the latest episode of this story-based podcast.
Tower Junkies(10/29/2020) –Matt and Tiny take a look at novel, The Stand.
What's happening at the Geek Cave?
Today's Picture: The Geek Pup and the Geek Dog, with two very different attitudes.
What's keeping me entertained? I mean, there's not much else going on right now, so let's see what's keeping me entertained. Affiliate links where applicable.
Support Team Geeking: Do you want to know how you can support the folx who bring you the blog, podcasts, and everything else we do?

TikiKitchen Inc.! All of the branding images you see on the blog are thanks to the fine folx at TikiKitchen! They have been indispensable to the blog ever since I started getting serious with it a few years ago. Take a look, and see if they can help you with your branding, website design, and more!
Geeking in Indiana! That's us! Here's a blog post that tells you how you can help the blog with recurring bills, and new equipment costs.
As always, we hope you have a great week! Remember, if you have an online or outdoor event coming up, either leave the info in the comments below, or drop it to me using any of the contact methods listed on the sidebar!