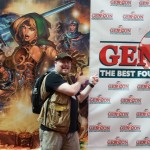 Happy Tuesday, my friends! I'm doing something a bit different for Tuesday Tidbits this week! Instead of doing a list of things happening around Indiana, I wanted to use today to give you all the list of things to look forward to at Gen Con this week! More specifically, I wanted to give you all a list of things to look forward to that involve Hoosiers at Gen Con this week! So, instead of a list of events and blog information, I'm going to give you panel listings, and booth information!
So, first, what panels should you be on the lookout for?
Thursday 2:00 PM: Podcasting 101: Content (Crowne Plaza Pennsylvania Stn C) – Curious about how to get started in podcasting? Join the Nerd's Domain as they talk about content, music, and more! Game ID: SEM17104308
Thursday 3:00 PM: Podcasting 101: Tech and Equipment (Crowne Plaza Pennsylvania Stn C) – Do you have an idea for a podcast, but you don't know what you need to record it, or get it online? The Nerd's Domain has got the panel for you! Game ID: SEM17104310
Thursday 6:00 PM: A Cappella with the eL33ts (Crowne Plaza : Conrail Stn) – Local a cappella group the eL33ts are back for another year of vocal renditions of your favorite video game and classic rock hits! Game ID: ENT17110473
Friday 1:00 PM: Podcasting 201: Advanced Techniques (Crowne Plaza Pennsylvania Stn C) – Join the Nerd's Domain Podcast as they talk about how to grow your podcast audience, build a community, and more. Game ID: SEM17104312
Friday 2:00 PM: Podcasting 301: Actual Play Podcasting Tips & Tricks (Crowne Plaza Pennsylvania Stn C) – Join the Nerd's Domain as they talk about running a tabletop game for a podcast. Everything from equipment to storytelling will be discussed. Game ID: SEM17110662
Saturday 11:00 AM: Purposeful Podcasting with the GonnaGeek Network (Crowne Plaza Pennsylvania Stn C) – You think you have a podcast, but what are you really trying to do with it? Let the GonnaGeek Network help you find your path. Game ID: SEM17105100
Saturday 1:00 PM: What is a Podcast? A Miserable Little Pile of Secrets (Crowne Plaza Pennsylvania Stn C) – Do you know nothing about podcasts? Here's where you start. GonnaGeek Network fills you in on how to listen, how to make your own, and more. Game ID: SEM17105099
Saturday 3:00 PM: The Shake Ups in Ponyville (Westin : Grand Bllrm V) – It's the local band, The Shakes Ups! They're doing their tribute to My Little Pony: Friendship is Magic, and it's great, even if you're not a Brony or a Pegasister! Game ID: ENT17104038
Saturday 4:00 PM: The Shake Ups in Beach City (Westin : Grand Bllrm V) – Oh my! It's more Shake Ups! They're following their Ponyville set up with their Steven Universe set! You can hear about it on this episode of the podcast (link)! Game ID: ENT17104036
Where can you find local booths at the show?
Star Wars Indiana (Hall between Lucas Oil and Convention Center) – Hey, it's our local gang of Rebels and Imperials! Check out this awesome group of costumers in the area leading from the Convention Center to Lucas Oil!
Little Guardians (Author's Ave. Table Z) – The Little Guardians crew is back at Gen Con! Pick up their fun comic about kids fighting demons… badly!
Hans Cummings (Author's Ave. AD) – This local author has put up with me the last two Teen Cons in New Castle, and has earned this shout out! Check out his books! Read! Consume his content!
Who North America (Booth 132) – Our friends at Who North America are back in their normal spot at the show! Get some cool Doctor Who merchandise, and get a Tardis selfie!
Dodeca System Games (Booth 470) – You heard Mike on the first pre-Gen Con podcast (link), now check out his stuff! Tell him Geeking in Indiana sent ya!
ConQuest Journals (Booth 2306) – Shelley has some fantastic journals to chronicle your gaming experience! She has ones for Gen Con, as well has having officially licensed Supernatural journals! You've got to check out her stuff!
John Kennedy/Third Eye Games (Booth 2437) – Remember my discussion with John last Friday on the podcast (link)? This is one of the booths where he said he'd be spending his time.
Literally Wizards (Booth 3056) – Remember, back in March, when I talked to the crew behind the game Buy the Rights (link)? Or when I was a guest on the Obsessive Viewer podcast, where we played the game Buy the Rights with the crew who developed it (link)? Well, that game is available at Gen Con! WOO HOO!
Anything else?
Friday 7:00 PM: Five Year Mission vs. The Yavin 4 (Scotty's Brewhouse) – This is a free show, from two local bands! It's Star Trek vs. Star Wars as two solid bands play the stage outside Scotty's Brewhouse! No event tickets, this is free (though, it'd also be cool if you bought some food at Scotty's while you're there!)
Hexes & Henchmen! Plow Games will have their new game they're testing, Hexes & Henchmen, in the First Exposure Hall (Rooms 107 – 110) at Gen Con! If you remember, we did a play-through of this on their podcast episode (link)! The times you can play are:

Thursday 8:00 AM to 10:00 AM
Friday 8:00 AM to 10:00 AM, 10:00 PM to 12:00 AM
Sunday 10:00 AM to 12:00 PM

Knitting with Joan of Dark! The Spouse Activities area will be hosting a lot of cool activities, including knitting with local awesome person, Joan of Dark! She has sessions Thursday, Friday, and Saturday, and prices range from $18 to $36, and you will learn knitting, and bring something home with you! Look for event host "Joan of Dark" on the Event Search page for more info!
Capes for Kids and more! Creative Energy Arts, along with Incognito by Aris & Rome, are helping kids find their inner super hero! Both times are Thursday, at 10:00 AM (KID17103434) and 1:00 PM (KID17103437), and they'll have an adult version for capes at 3:00 PM (WKS17103440), and then on Saturday they'll be doing a workshop on pattern piecing (WKS17103453). Visit the Events page, look up the IDs, for more information!
So, do you know any local stuff I'm missing? Give it a shout in the comments, preferably with a Game ID attached so we can find it easier!