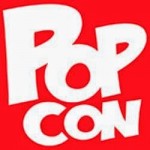 At this point, I hope we all know that Indy PopCon is happening this coming weekend (June 8th, 9th, and 10th) at the Convention Center in downtown Indianapolis. If you don't know, you can get more information and tickets at their website, but I know some of the big draws are folks like Wil Wheaton, Pom Klementieff, LeVar Burton, David Yost, Elizabeth Henstridge, and just a ton more voice actors, actors, YouTubers, cosplayers, and other creators. While these are all cool, these are also the items getting the most promotion. So, I'm going to be a bit selfish here, and tell you about the stuff I think you should be checking out, as well! The friends of the blog, who are holding panels, or showing off their creations at tables! This week's Tuesday Tidbits will be focusing on those creators, most of which are local (with a few regional and formerly-local thrown in), that I think you should be checking out.
First, though? Let's look at the schedule of events! These are panels and shows you should be checking out!
Friday, June 8th

11:00 AM (ComicsPriceGuide.com Panel Room – Wabash): Star Trek: Discourse! Did you watch us on Facebook before Star Trek Discovery in late 2017/early 2018? Probably not, but that shouldn't stop you from checking out this panel on Friday, as you're waiting for the hall to open! We'll be discussing season 1, and our hopes and dreams for season 2!
5:00 PM (Medium Panel Room – Wabash): Meet the Star Wars Costume Groups! Interested in joining the 501st Legion, or the Mandalorian Mercs? Look no further than this panel!
6:30 PM (PopCon KidZone – Main Vendor Hall): Podcasting and Blogging Basics for Kids! Hosted by myself, Rachel Frend (The Five-ish Fangirls), and John Graham (FIGID Press), we're going to talk about getting started with a blog and podcast, basic equipment needed, parental permission, and remembering that when it's out on the internet, it's forever!

Saturday, June 9th

5:00 PM (Small Panel Room 110): Getting it Done: Planning Creative Projects! Join the creative team of Pitched (Podcast Episode Y3E06) as they talk about how to complete your creative work, in the face of "real life".
6:00 PM (Small Panel Room 110): Awkward Twitter Mingle! Once you're done learning about projects, stick around for PopCon's traditional "tweet up"! Hosted by yours truly, as well as some friends, we just all get together, put some faces behind the handles, and just… well, be awkward?

Sunday, June 10th

1:30 PM (Special Events Room 122): The Shake Ups! The best Power Pop band in Indianapolis (Citation) will be performing at Indy PopCon! If you've never had a chance to check them out, and if you're at the convention, there is no excuse!
3:00 PM (Medium Panel Room – Wabash): Big Finish, Doctor Who, & the Time War! Featuring Rachel Frend (The Five-ish Fangirls) along with some Big Finish folks, they are talking about the Big Finish audio productions featuring the Time War in Doctor Who!
Next, where are Friends of the Blog tabling at the convention? Here's where to find them! I could tell you WHY you should seek them out, but you know what? Just do it, and thank me later (I'm out of time!)!
Aw Yeah Comics – Booth 129
Skillful Studios/Mayonnaise and Bread – Booth 207
AP Collectibles – Booth 435
Joe Corroney – Booth 735
Sickeningly Sweet Studios – Table 810
Chris & Gin – Table 811
Kyle Latino – Table 811
The Geekporium – Table 812
Dodeca System Games – Booth 829
Nights of Yore – Table 835
G Pike – Table 910
Zombie Daisuke – Table 910
Hallopino – Table 915
Mike Makes Stuff – Table 1013
Kahahuna – Table 1018
Young Puffin's Wonderfully Grand Mystery – 1027
The Established Facts – Table 1035
Podcast Indy – Booth 1102, 1104
The Nerds You're Looking For – Table 1130
The Established Facts – Table 1134
Circle City Ghostbusters – 1228
The Shake ups – Table 1232
Five Year Mission – Table 1234
Who North America – Booth 1410, 1412, 1414
Look for this to get updated through Thursday night with any other responses I get for table numbers, or panel updates, and I'll see you all Thursday for my vanity post, Where You Can Find Geeking in Indiana!
Tony