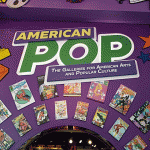 For those who follow the blog fairly regularly, you know I'm a fan of the Children's Museum of Indianapolis. They are a great place for kids to go to learn, they create and bring in exhibits that are fun and educational, and they have little bits of Geekery all over the museum. In the past, I have covered so many exhibits for them, that I have given them their own Category on the blog to help keep track of them all (Note: This is number nine, since I rebooted the blog after the crash towards the beginning). Sometimes, I'm there on my own and I see stuff I want to write about. However, many times I am fortunate enough to get invited to one of their Social Media preview nights, and I get to spend a few hours with a lot of my friends checking out a new exhibit. Last night, I was once again given this opportunity to check out their newest permanent exhibit, American Pop, which was right up my alley!
The America Pop exhibit is opening to the public on Saturday, June 17th, and it's focusing on American Arts and Pop Culture! The exhibit is chock full of items focusing on music, fashion, toys & games, film & tv, and comics & literature. They have a wall of comic books from the Max Simon collection, cowboy boots from the Bob Wilds Boot and Hat Collection, and a display chock full of items from their newest Batman collection, purchased from local collector Kevin Silva back in March of this year (link)! It is a fun collection of cool collectibles, period pieces, and screen-used pieces from popular movies and television shows, and it's the anchor for a rotating group of exhibits focusing on other parts of popular culture, the first one being Dance (which, I admit, I don't know much about, but I do know they were teaching the macarena, so there's that).
Looking around this exhibit, I snapped a lot of pictures, some of which are shown in a gallery below. I know I'm getting old when toys I have purchased as an adult are now part of museum exhibits, like the 1997 Han on Taun-Taun 12″ figure, which I remember running to Toys R Us to buy, because I knew they were selling FAST. I loved their section of Star Trek items, which included a mixture of toys, production art, and some screen-used pieces from both the original series, and the 2009 film. There is even an original Norman Rockwell painting of Boy Scouts, and a calendar beside it showing how it was used in other materials. There are just so many things that make you look, and go, "I remember that…", and it makes a good time for both those with, and those without, children. Those without, it's a good run of nostalgia, and a lot of fun. For those with, you can share stories with them about some of your favorite memories, smile at how My Little Pony figures have evolved, and just generally have a great time with your kids.
"American Pop: The Galleries for American Arts and Popular Culture" is a new permanent exhibit at the Children's Museum of Indianapolis, and is included with museum admission. This Geek enjoyed the heck out of it, and I think you and your family will too! Enjoy a selection of photos, and I'll edit this to put up a link to the album when I have it uploaded! Thank you, once more, to the fine folks at the Children's Museum for the opportunity to check this out early, and I can't wait to get the Geekling over to check it out!
This slideshow requires JavaScript.
Disclaimer: Geeking in Indiana is part of the folks that The Children's Museum of Indianapolis invites to exhibit openings, in exchange for live tweeting and social media coverage. All opinions, comments, and the overall sense of wonderment and appreciation are 100% that of the author, however, and are in no way influenced by the Children's Museum.