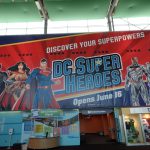 Note: This article was written to help promote the DC SUPER HEROES™: Discover Your Superpowers exhibit at the Children's Museum of Indianapolis. The exhibit is now gone, but the memories of the awesomeness remain in blog posts such as this! – Tony
As many of you know, I'm a fan of the Children's Museum of Indianapolis. I've done enough articles about their exhibits that they have their own category on the blog (LINK). I have been fortunate in that, every time they have an exhibit with a Geeky theme to it, they invite me in to take a look, and I'm more than happy to write about what I see. This past Friday, I was once again given the opportunity to check out their newest temporary exhibit, DC Super Heroes: Discover Your Superpowers!
DC Super Heroes: Discover Your Superpowers has your wee Geeklings (or you!) assist members of the Justice League in their battle against crime. Find out which Super Hero you're most like, deploy Super Heroes to where they're needed most in the Hall of Justice, and more! You can capture criminals and solve crimes with Wonder Woman and Batman! You can race against The Flash! There is so much you can do with your favorite Super Heroes! In addition, you can get video of yourself performing super feats, like flying or shooting laser beams out of your eyes, and email yourself the video! On top of all THAT, they also have comics on display, talk about Super Heroes in comics, and have digital comics you can read!
Of course, while all the stuff about working together and solving crimes is cool, I also like to see what gets brought in for these exhibits. This one did not disappoint. First off, in the lobby of the museum, they have the Batmobile from Batman and Robin! Say what you will about the film, I always get a kick out of seeing a Batmobile, and with this one, I have seen almost all the versions (replica '66, replica '89, this one, and both the real and replica Tumblers). In the entryway to the exhibit, which is made to look like the Hall of Justice, they have screen used costumes on loan, from Batman v Superman! Yes, you can get pictures with the Trinity: Batman, Wonder Woman, and Superman! Also, inside the exhibit itself, they have a display case with Batman and Superman's capes, props from Batman Returns, and more. Plus, there are little Easter Eggs through the exhibit, especially in the Bank portion!
Here are some pictures I took of the pieces, and the exhibit! Underneath is the information you need to go check it out! Thanks again to the Children's Museum for inviting me to see this cool new exhibit!
This slideshow requires JavaScript.
What is it? DC SUPER HEROES™: Discover your Superpowers
Where is it? The Children's Museum of Indianapolis
When is it? Now ended! Sorry! (11/25/2018)
How much is it? The exhibit is part of the standard Museum admission. No extra fees!
Where can I get information? You can get the information off of the website of the Children's Museum! You can also stay up to date with their happenings by following their Twitter feed, their Instagram page, or their Facebook page!