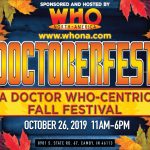 It's the weekend before Halloween, and you know what that means, right? It's a mad scramble for costume parts, decent candy, and it's time for Doctoberfest! This fun fall festival, now in its fourth year, is held on the property of Who North America, and features local craftspeople, authors, and food trucks, along with the cool stuff already at Who North America.
Starting at 11 AM, and running until 6 PM, there is going to be a lot to do at this family friendly event. There is a costume contest, games, and a pumpkin carving contest, all centered around Doctor Who. There is going to be a balloon artist! The authors of Red, White & Who, a book about Doctor Who in America, will be there! There are also a goodly number of vendors selling their wares. Many of these vendors I have tabled with at the show in the past, and I want to call out a few for you to keep your eyes open for. First up is Dead Cat Comix, ran by the only person I've ever seen cosplay as "Evil Tony" at a convention, that also has some great comics and trades. Bath Omens is ran by another friend, and they have awesome soaps that will be available, as well as artwork, I believe. Lizz is looking forward to getting a 13th Doctor print from Jess. Obscure Links is another table ran by friends, and they have a lot of great handmade items like blankets, tote bags, and dice bags. Now, you'll want to check them ALL out, but these are my friends, and my favorites!
While there's a lot of great stuff at the festival, let us not forget about the awesomeness of the host! Who North America is home to a great museum of Doctor Who memorabilia, in addition to having a store full of great Doctor Who and other BBC merchandise. In addition to that, they have Doctor Who Pinball. In addition to that, they have a Star Trek Voyager arcade machine. You definitely need to brave the crowd, and check out what they have inside the shop!
The last three years, I've had the pleasure of sharing a table at this show with Rachel of The Five(ish) Fangirls Podcast. Through the years we've dealt with sun, below freezing temperatures with wind, and decent weather. Sadly, this year I won't be joining her, but you'll definitely want to drop by to say hi, and of course listen to her podcast.
So, what do you need to know? The info is down below!
What is it? Doctoberfest, a fall festival centered around Doctor Who
Where is it? Who North America, 8901 S. State Road 67 Camby, IN 46113
When is it? Saturday, October 26th, from 11 AM to 6 PM
How much is it? The event itself is free, but you'll want to bring money for the vendors, the food trucks, and of course, Who North America.
Where can you find more information? The best place to get info is the Doctoberfest Facebook Event Page!
Go forth, and have fun!