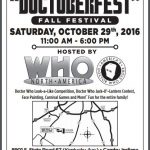 As many of you know, Indiana is home to one of the largest online retailers of Doctor Who and BBC merchandise in the US. In addition, as you might have seen on their #FLSFriday post, they have a fairly new location in Camby! With all of Who North America's new space, they are looking to start a new fall tradition. This Saturday, October 29th, they are going to be hosing their first Doctoberfest!
From 11:00 AM to 6:00 PM, they are going to not only have their location open, with all of their cool merchandise, museum, and games, but they are also going to be hosting a Doctor Who Look-a-Like Competition, a Doctor Who Jack-o'-Lantern Contest (Captain Jack-o'-Lantern?), in addition to vendors, face painting, carnival games, and more! This is a family friendly event, held at their location, and admission is free.
Some of the people who will be tabling at the event include:
I know there's a few other people that are in discussions, as well, so this is not, by any means, a final list of attendees and events. Also, this is going to be held outside. Currently, it's only showing a 10% chance of rain on Saturday, but note that if there is bad weather, they will be cancelling any outdoor activities. Finally, this is the first year this is happening. Who North America is hoping it will become a yearly event, but since no one knows what the crowd is going to be like (currently, there are 289 interested, and 69 going on the Facebook Event Page) it will be interesting to see how the space handles it. Already, there are concerns about parking, so if you have the ability to Uber/Lyft it, or carpool, you'll probably want to do so!
So, here's the info you need to come have a good time with a bunch of Whovians!
What is it? Doctoberfest, the first annual Who North America Fall Festival
Where is it? Who North America at 8901 S. State Road 67 Camby, IN 46113
When is it? Saturday, October 29th, 2016 from 11:00 AM to 6:00 PM
How much is it? The event is free, but carnival games will cost money, plus you'll want to bring money for the vendors.
Where can I find information? The Facebook Event Page has been the best place for up-to-date information. Also, if you're interested in the Look-a-Like Competition, or the Jack-o'-Lantern Competition, email them at whona@whona.com for an entry form!
I'll see you Saturday!