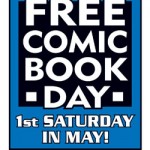 Updated 05/06/16 8:26 AM
It's that time of year, my friends! It's the first Saturday in May, which means it's Free Comic Book Day, or FCBD for those who aren't trying to meet a word count in their writing! For those who aren't familiar with what FCBD is, then may I point you to this post written by Bri last year in the old Wednesday Comics category? It gives a good run down of the festivities, and also gives you some tips and advice. Also, before we go deeper, I want you to know they have a website, including a list of the books they are giving away, and a list of the shops that are participating!
In addition to those timeless tips and advice, I'm back again with my list of stores that are going a bit above and beyond handing out free comics! While that, in and of itself, is pretty dang awesome, a handful of stores like to go a step further, offering sales, bringing in guests, and doing giveaways! As always, this list is based off of what I'm familiar with, so if you know a store that's doing extra, please give me a shout at IndianaGeeking@gmail.com  and I'll be updating this all the way up until I leave on Saturday morning!
Before I go into the list of stores (alphabetical, of course! Don't want to play favorites!), I do want to throw some info out there. First, keep an eye open for the Cardis! While I won't be hitting as many places as I did last year, I am planning on hitting many of the shops I'm writing about on Saturday, to not only pick up some books, but also get some signatures. One thing I'll be doing when I hit those shops is trying to take a little bit of the scratch I've got and try to pick something up. Remember: while the comics are free for you, they are not free for the shop! Please, if you can, try to compensate your FLCS accordingly by looking over their merchandise, and picking up an extra book or three.
Now, what shops are we looking at?
Once again, this is just where I KNOW to look. Do you know of any stores that are doing something special? Do you have more information on the stores I've listed? Give me a shout in the comments, or drop me an email! Tweet me! Just let me know by Saturday morning so we can give them a boost, and let people know where they can get cool stuff!
Tony