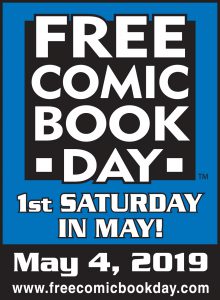 This coming Saturday is the first Saturday of May, so you know what that means, right? It's Free Comic Book Day!
Free Comic Book Day, or FCBD, is a major holiday for comic book fans and kids of all ages. It's a day where shops order special books, which have FCBD branding, and they are given out to people who visit their shops. Most shops have limits to the number of comics you can grab, to make sure they have enough for every one, and some shops even have events around the day, which I'll touch on in just a bit.
First things first, I would like to point out this post that Bri wrote, back in 2015 in her old "Wednesday Comics" posts. It gives some very good tips on how to deal with FCBD, especially if you're a first timer. I want to everyone to pay special attention to her point about shopping this weekend. These shops are dropping a bit of coin to get these books to hand out, so if you have a bit of coin yourself, maybe buy a few comics for yourself, your kids, or your friends? I know I always try to have a few books to hunt for as I'm picking up some free books.
So, as I said, there are shops around that do different things. Some just put books on a table, others hand them out. Some have visiting artists, some have Batmobiles, and some have cosplayers. Here's a list of some of the Hoosier-based shops that I'm aware of, that have special events. These were found by going through my list of Hoosier shops, both ones I've visited and ones I've heard of, and finding those who are saying more than "Get a free comic book". I'll list the shop name (in alphabetical order), and their location. Each shop link will go to their Facebook Event Page, which will list their sales, updated guest list, and event schedule, if applicable. In addition, you can always visit the FCBD website's Store Locator, and of course you'll want to check out the List of Comics that are available this year!
So, what's going on around Indiana?
Once again, this is just where I KNOW to look. Do you know of any stores that are doing something special? Do you have more information on the stores I've listed? Give me a shout in the comments, so people will know! Sadly, this year falls on May the 4th, and I'll be helping Star Wars Indiana with events throughout the day, so I won't be out grabbing books with everyone. So, to all of you, please remember to have fun, be kind, and don't be a dick!