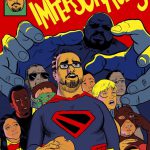 I first met local film maker Joshua Hull at the release of his horror comedy, Chopping Block (Media Monday link here). I was then blessed with the opportunity to check out a film he co-wrote with Michael Malone, called Bethlehem (Geek Thoughts link here). I found both of these works very enjoyable, and I have always been curious about Mr. Hull's other work. Luckily, on Saturday, I get the chance to check out another one of his films, The Impersonators, at a place with some of the best beer I've had in the Indianapolis area, Scarlet Lane Brewing in McCordsville. Even luckier, everyone one else has this chance, as well!
First, let's look at the film. The Impersonators was first released in late 2014, and was directed by Joshua Hull, with a screenplay by Joshua Hull and Josh Arnold. The description from Josh Arnold's page offering the blu ray (link) reads, "When a ragtag group of birthday-party entertainers is mistaken for actual superheroes by a deadly crime syndicate, they soon find themselves in over their heads in a hilarious fight for survival." Now, as I've said, I haven't seen this, yet, but dang it, that sounds amusing!
Next, we have the host, which is Scarlet Lane Brewing Company in McCordsville. Scarlet Lane also joined us in 2014, and I hold them personally responsible for my enjoyment of coconut in a stout, which is a seasonal offering. Founded by Eilise Lane, who is also the Head Brewer, they have fantastic beer, and a great vibe, that makes this a fun place for gatherings. You can find more information on Scarlet Lane at this link, and their tap house at this link.
Now, the event itself, which brings together these two awesome things! On Saturday, March 25th, from 6:00 PM to 10:00 PM, Scarlet Lane is hosting the blu-ray release of The Impersonators! There will be a free screening of the film, followed by a Q&A with members of the cast and crew, hosted by Sam Watermeier of Nuvo and The Film Yap.  As you are enjoying the free festivities, you can also pick up a copy of the film, pick up a copy of the poster, meet members of the cast and crew, and buy some beer, all while supporting local film making and business! In addition, Hash Truck Indy will be on hand, if you need to pick up some food!
So, if this looks like something that is your speed, here's what you need to know:
What is it? The Impersonators blu-ray release, screening, and Q&A
Where is it? Scarlet Lane Brewing Company, 7724 Depot St. McCordsville, IN 46055
When is it? Saturday, March 25th from 6:00PM to 10:00 PM
Where can you get more information? Information on the event can be found on their Facebook Event Page, located at this link.
I hope to see you all there!
Tony