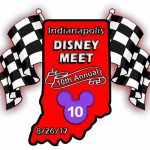 Here in Indiana, poor Hoosiers don't have any real taste of Disney anywhere nearby. Most of the Disney Stores in Indianapolis have closed, leaving us a Children's Place-reject over at Castleton Square Mall that is just a shadow of it's former self (along with stores in Mishawaka and Merrillville, which I can't speak to), and we are about 1,000 miles from the closest Disney Park. Luckily, we also have Hoosiers that have decided to do something about it, and do their best to bring a bit of the Magic to this fine state! That is what's happening this weekend, over in Noblesville!
Now in its tenth year, the Indy Disney Meet is held at the Hamilton County 4H Fairgrounds, and it's a pretty loose gathering of Hoosier Disney Fans. It has grown considerably over the last few years, and this year, the organizers are pulling a lot of great surprises out of their Mouse Ear hats! You see, not only do you have the opportunity to hang out with fellow Disney Geeks, but there are also a lot other things to see, such as:
Special Guest Yehaa Bob from Disney's Port Orleans Riverside Resort, including a performance!
Herbie the Love Bug!
Princesses!
Star Wars Indiana!
Droids!
Scavenger hunts!
Silent auctions!
Raffles!
Expo Hall featuring travel agents, authors, and podcasters, including friends of the blog The Five-ish Fangirls!
DOLE WHIP!!!
In addition to all of that, this event is done to benefit the "Give Kids the World" Village, which provides week long, cost-free vacations to kids with life-threatening illnesses, as well as their families. You can find information on them here.
PLUS, they will be having a pitch in, using store-bought items or a covered dish with an ingredient list! This is just a whole lot of family-friendly fun!
This is an event that I've been wanting to hit for the past few years, but it always happens on a horrible weekend for me! However, if it's not a horrible weekend for you, you need to head over to the main building at the fairgrounds in Noblesville and have a blast with fellow Disney Geeks! Here's what you need to know:
What is it? The Indy Disney Meet
Where is it? The Hamilton County 4H Fairgrounds at 2003 Pleasant St. Noblesville, IN 46060
When is it? Saturday, August 26th, 2017 from 12:00 PM to 7:00 PM
How much is it? Admission is free, but there is a suggested donation to "Give Kids the World", as well as the request for a store-bought item for the pitch-in buffet table.
Where can you find more information? The best place to get information is the Facebook Event Page!