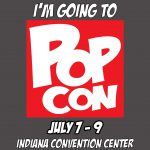 So, what would #PopConWeek be without actually telling you about Indy PopCon? Yeah, I might have waited until Wednesday, but scheduling and consistency is important, so Monday is for Media, and Tuesday is for Tidbits. This is just how it works! So, let's gather 'round, and take a look at this locally-run show that is returning for its fourth year this weekend!
Indy PopCon started back in 2014, and it had a focus as a general pop culture convention. Realizing that Indianapolis was overflowing with those, they found a new focus as a pop culture "convergence," instead turning their focus on creators instead of celebrities, though those are there, as well. The show definitely shows this focus in the panels that are presented, the separation of booths on the con floor (separate sections for Internet Alley, Artists Alley, Indie Games, and Cosplay), and the accessibility of many of the people they have either as guests, or as exhibitors. If you're curious about doing things on the internet, creating your own art, making costumes, or anything of the sort, this is your show. Yet, they still do their best not to alienate those who enjoy conventions that involve celebrity autographs, or shopping through the vendor booths looking for that collectible. They do their best to be a good, well-rounded show, with something that will hopefully appeal to a lot of folks.
So, what is to be expected at the show? Well, first, there's what a lot of folks look forward to, and that's the guests. Some of the guests expected to be at Indy PopCon include:
Greg Grunberg
Matt Ryan
Johnny Yong Bosch
Phil Lamarr
Jess Harnell
Robert Carradine
Curtis Armstrong
Comic Book Men (Mike & Ming)
Timothy Zahn
Joe Corroney
Adi Shankar
These are just the ones that this old man is familiar with! In addition, there are video game voice actors (including folks from Overwatch), popular YouTube creators (see Media Monday!), plus returning favorites like Lloyd Kaufman, Troy Baker, and Sam Jones. They have a lot of people, and a lot of opportunities to see them, including special events like movie screenings, VIP panels, and more. For a list of their guests, check out this link!
Not only are there guests, there are also panels ran by, not only guests, but locals! The Podcast Stage will be hosting a lot of great podcasts throughout the weekend, there are a lot of anime and costume panels, and guess what? There are even live Lightsaber Tournaments hosted by the Indy Lightsaber Academy, and shows by The Shake Ups! If panels are your thing, then check out the schedule at this link!
Of course, they're going to have a vendor hall. Check back on the blog tomorrow to see some of the folks I encourage you to check out, but you can get a list of vendors at this link to start making your plans!
Indy PopCon is going to be a fun weekend, with plenty for any Geek to do! Here's the info you need:
What is it? Indy PopCon, a Pop Culture Convergence
Where is it? The Indiana Convention Center 100 S Capitol Ave, Indianapolis, IN 46225
When is it? July 7th through the 9th, 2017
Where can I find more information? You can visit their website, their Twitter Feed, or their Facebook page.
See you on the blog tomorrow, when I talk about local creators to visit, and I'll see you all on Friday either on here, or at the show!
Tony