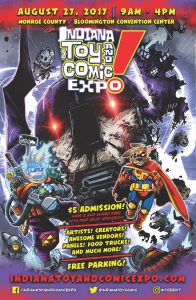 It started in Indy, at the Caribbean Cove Water Park hotel on the North West side. From there, it went to the Wyndham West, before finally settling in its home in Bloomington, where it has resided for what is now the third year. It's the Indiana Toy and Comic Expo, and it's happening this Sunday, the 27th!
The Indiana Toy & Comic Expo (ITCE), running from 9:00 AM to 4:00 PM at the Monroe Convention Center, is exactly what is advertised in the name. It is a one day show, focusing on toys and comics, as well as local artists and creators. They don't bring in guests for autographs, instead they focus on letting the draw be the dealers and creators in attendance, and it works beautifully for them. Plus, it enables them to keep the admission at a very reasonable $5, so you can put your money towards the dealers inside!
Now, this is not to say they won't have anyone of note there! Fans of the Rick and Morty comic book will be thrilled to meet Hoosier-based Kyle Starks (who also makes the fantastic Rock Candy Mountain), for example. There will also be cosplayers, toy reviewers, customizers, and more! Check their Special Guests page!
In addition, there will be a bunch of local artists there, selling their work! You know your walls could use artwork from any of these listed creators! Plus, with all the other vendors, you'll be able to balance it all out with toys and collectibles from these listed vendors!
But wait! There's more!
In addition to all that, there are also panels, costume contests, and even a custom figure contest! This is on top of a charity auction, appearances by the Rebel Legion and 501st, and just enjoying a small, local show full of Geeks, Nerds, and people interested in many of the same things you are! I know, when I went last year, I was able to pick up some Undertale jewelry for the Geekling, as well as some art for Lizz and myself. In other years, I've picked up action figures, toys for the Geekling, and got a really good deal on some Star Trek ship models.
I can't wait to see what I come across this year!
So, are you looking at attending this fun, one day event, down in Bloomington? Here's what you need to know:
What is it? The Indiana Toy and Comic Expo
Where is it? The Monroe Convention Center at 302 S. College Ave. Bloomington, IN 47403
When is it? Sunday, August 27th, 2017 from 9:00 AM to 4:00 PM
How much is it? $5.00 at the door, with kids 12 and under free with a paid admission.
Will I see you there?
Tony