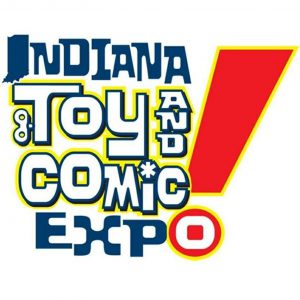 Indiana is full of many great shows and conventions. If you think of a Geeky type of show or convention, chances are we have it! One of those shows is happening this weekend, as the Indiana Toy and Comic Expo comes back for its fourth year, and it's second year in Bloomington! I have had the pleasure of attending this con at both their first show at the Caribbean Cove in Indy, and their second at the Wyndham West in Indy. Sadly, last year I was in too bad of shape after Gen Con to walk around another show, but this year, I'm fit as a fiddle, and ready to go hunt for some comics and dig for some toys down in Bloomington!
On Sunday, August 28th, the Bloomington/Monroe County Convention Center will be hosting toy dealers, comic dealers, artists, and costumers at this one-day show from 9:00 AM to 4:00 PM. Some of the special guests include artists Stuart Sayger (creator, Shiver in the Dark), Kyle Starks (creator, Sexcastle), and Pixel Dan (toy reviewer, YouTube). This in addition to a plethora of local artists and writers, costuming groups like the 501st Legion, the Rebel Legion, the Indiana Ghostbusters, and Indiana Cosplay Association, and of course, vendors.
I love looking through the vendors at one-day shows like ITCE. In fact, I have found some great items at past ITCE events. Starship models from Star Trek, toys for the Geekling, locally sourced bow ties, and vinyl record art are all things I've purchased, or drooled over, at past shows. This year, I'm looking for items from Five Nights at Freddy's for the Geekling, Wonder Woman and Kara "Starbuck" Thrace items for Lizz, and Star Trek ships for myself. I'm also sure I'm going to run across a Funko Pop or two that I might need, and I have a certain Monster High doll that I'm looking for a good price on, as well.
In addition to the artists, vendors, and costumers, ITCE has some great events for everyone. First, they have a Family Fun Area with game demos from Game Preserve and GameStop, coloring pages, photo ops with the Indiana Cosplay Association, and sketches for kids 12 and under. Then, for those who love cosplay, their Costume Contest has winners in multiple categories! They also have a unique custom figure contest with four different categories for customizers to choose from, as well as a Custom Reggie Charity Auction, where people take a sculpture of the ITCE Mascon, Reggie, decorate it, and the pieces are auctioned off for the Foundation for Autism Resources.
The Indiana Toy and Comic Expo is happening Sunday, August 28th, in Bloomington. The location is the Bloomington/Monroe County Convention Center at 302 S. College Ave. The hours are from 9:00 AM to 4:00 PM, and the admission fee is a flat $5.00. Parking is free, and I hear there's a good amount of it. In addition, there are a few Pokestops in the area the crew is planning on planting lures on over the course of the show, and there are going to be food trucks in attendance so you can sample a taste of Bloomington fare.
So, head on down to Bloomington on Sunday, and enjoy the show!
Tony