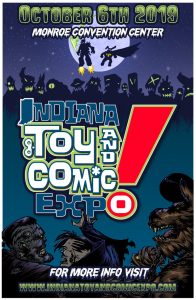 There is a lot going on this weekend, but the main event this Geek is looking forward to is the return of the Indiana Toy and Comic Expo to Bloomington! This show, traditionally happening in August, started up here in Indianapolis back in 2014, before moving down to Bloomington in 2016, and it's happening this Sunday!
The Indiana Toy & Comic Expo (ITCE), running from 9:00 AM to 4:00 PM at the Monroe Convention Center, is exactly what is advertised in the name. It is a one day show, focusing on toys and comics, as well as local artists and creators. They don't bring in big name guests from television and film for autographs, instead they focus on letting the draw be the dealers and creators in attendance, and it works beautifully for them. Plus, it enables them to keep the admission at a very reasonable $5, so you can put your money towards the dealers inside!
I love small, one-day shows like this. You have plenty of time to check out all of the vendors and artists, you'll have time to meet the costumed characters of Star Wars Indiana, you can sit in on the costume and custom figure contests, you can participate in the auction, and you won't feel rushed, or that you've missed out on something! Plus, you'll be able to meet people like "Pixel Dan," who does some fantastic toy info videos on YouTube, or Ashley Witter and Ash Maczko, of Squarriors fame.
So head down to Bloomington this Sunday with your toy and comic wish lists! I know at past shows, I've found cool things like the R5-D4 Funko Pop, some great prices on Star Trek model kits, and other assorted action figures. This year, I'm keeping my eyes open for more starships, and perhaps some fresh artwork!
So, what do you need to know about the show? It's down below!
What is it? The Indiana Toy and Comic Expo
Where is it? The Monroe Convention Center at 302 S. College Ave. Bloomington, IN 47403
When is it? Sunday, October 6th, 2018 from 9:00 AM to 4:00 PM
How much is it? $5.00 at the door, with kids 12 and under free with a paid admission.
I hope to see you there!
– Tony