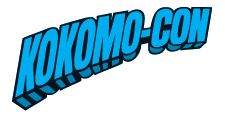 This weekend is the return of one of the grooviest one-day shows in Indiana. Up in Kokomo, in their Event and Conference Center, Kokomo-Con returns for the tenth year of vendors, guests, costumes, and fun! This show is a great time for the Geeks around Kokomo, and I find it well worth the trip up from Indianapolis in order to see friends, shop some cool vendors, and afterwards, visit Geek Street in downtown Kokomo! So, why would you want to head up to Kokomo for the show?
First up, we have the vendors. I have picked up movie posters, comic books, original art, toys, and even a Porg pin in the past shows I've attended. They have local artists, toy shops, game shops, comic shops, and I think I've seen a record shop say they're going to be in attendance this year! They stack as many vendors in as possible, without the floor feeling over-crowded. All in all, it's a great way to check around and see if you can fill any holes in your collections.
This show isn't just about the vendors, though! There's also a lot of costuming/cosplay-centric stuff going on, with panels, cosplayers, and the costume contest. The costume contest has categories for Toddlers/Kids, Adult Male, Adult Female, Group, and Best in Show featuring winners from the adult groups. The Cosplay Panel Room will feature panels by local cosplayers Michelle Eubank Mussoni and Lisa Anderson-Kleckner, covering topics such as Worbla, budget cosplay, and working with wigs!
In addition to all of this, there's also going to be some special guests! Justin Nimmo (Power Rangers in Space, Pleasantville) will in attendance, selling autographs and shirts. Local favorite Stuart Sayger will be returning, and he'll be bringing his cover of Joker #1 which just came out this week! This is in addition to all of the other local talent that will be in attendance, hoping you will take a look at their original content!
This is going to be a fun day up in Kokomo, so what are you going to need to know before heading up there?
What is it? Kokomo-Con 2019
Where is it? The Kokomo Event & Conference Center in Kokomo, IN
When is it? Saturday, October 12th from 10:00 AM to 5:00 PM
How much is it? $10.00 at the door, with kids 6 and under free with a paid admission
Where can you find more information? You can visit their website, and the Facebook page
I look forward to seeing you there!
Tony