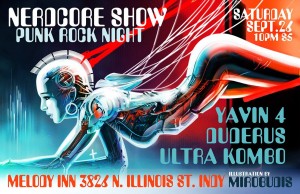 Indianapolis is home to many excellent Geeky bands, like last week's Things to Do entry, the Shake Ups in Ponyville. This week, I've found a special event that will host not just one, but two of our fandom bands here in Indy! On Saturday night, the Melody Inn in Indianapolis is hosting Punk Rock Night, and their feature this week is Nerd-Core night, with the bands Yavin 4, Ultra Kombo, and Duderus. However, this is not an all-ages show. Doors open at 9:00 PM, music starts at 10:00 PM, and it's 21 and older to get in. However, if you are of the legal drinking age set, here's what you have to look forward to!
You have local group The Yavin 4, a Star Wars-themed band playing "Intergalactic rock and roll" with members Benny NoGood, Travis Harmon, Jason Bambery, and Chad Prifogle. They are encouraging everyone coming out to the show to wear their best Star Wars costumes, t-shirt, lightsabers to wave in the air, anything to make a huge Star Wars presence.
Another local group playing is Ultra Kombo. This "nerdcore punk" duo consists of Matt on guitar, and Levi on drums. I just found out about them a few weeks ago, but a band that takes "their love of comic books, video games, and table top games and then mixes it with punk rock music" sounds like a great way to spend an evening!
Finally, out of Dayton, Ohio, we have the band Duderus. This is a "nerdcore punk rock" band that's "tackling today's tough issues… such as Werebears, Time Travel, Comic books, Space riots, and MORE!" They feature ROHR, M.C. Dustbunny, Ben Dover, Jesse Incognito, and Paige BellAIR.
All three bands, one evening, only a $5 cover? Sounds like a good show, to me! Here's where you can get more information!
What is it? Punk Rock Night Presents Nerd-Core Night at the Melody Inn
Where is it? The Melody Inn 3826 N. Illinois Street Indianapolis, IN 46208
When is it? Saturday, September 26th. Doors open at 9:00 PM, music starts at 10:00 PM
How much is it? $5.00
Where can I get information? Visit the event page on Facebook for information about the event, bands, and more!
Go forth, and rock out!
Tony