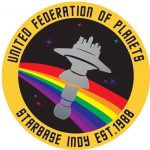 For many people, this weekend is a weekend of traditions. On Thursday, many of my readers will get together with family and friends to eat and watch football. Then, on Friday, a good portion of them will go out, brave the traffic, and head to the Wyndham West hotel for Starbase Indy! What is Starbase Indy (SBI), you may ask? Well, might I point you to this podcast episode? It's a fun conversation.
I'll wait.
Do we know what's going on now? Are we up to speed? Fantastic, let's continue!
For those who didn't listen (shame on you!), SBI is many things. This year, SBI will be hosting Mary Chieffo, who many might know as L'Rell from Star Trek: Discovery! Also on deck is Tracee Lee Cocco, who played Lieutenant Jae, who was a regular background character on Star Trek: The Next Generation. In fact, she showed up on over 100 episodes of TNG, plus Star Trek: Generations, Star Trek: First Contact, and Star Trek: Insurrection! They will also have Indianapolis native Mimi Craven, who was Jisa on the sixth season Star Trek: Voyager episode, "Dragon's Teeth." She has also appeared in The Twilight Zone, Swamp Thing, and Nightmare on Elm Street, just to name a few shows and movies. Since SBI focuses on STEM, as well, they will also have Doctor Erin MacDonald returning to the show! She has recently been consulting for various science fiction shows and books, with a focus on "the use of general relativity in science fiction through faster-than-light travel, artificial gravity, alternate universes and more." (SBI Website) Plus, friends of the blog The Shake Ups will be doing a show on Saturday and a panel on Sunday, as well! All of this is on top of the other bits, like the dealer's room, room parties, and all that fun stuff!
Most importantly, for those who have never been to a small, fan-run convention like this, it's an opportunity to spend a weekend with your chosen family of Geeks. It doesn't involve you fighting downtown traffic, or sprinting from one end of the convention center to another to get from one panel to another. It's a relaxed, fun weekend with guests who enjoy being at the shows, volunteers who love running the show, and a bunch of friends.
So, what do you need to know, in order to attend this show?
What is it? Starbase Indy
Where is it? The Wyndham West Hotel in Indianapolis
When is it? November 29th through December 1st, 2019
How much is it? Tickets are available at the door, and they have a ton of different options, based on full weekend, single day, age, whether you just want to visit the dealers room, and so on! Get the information you need here!
Where can you find more information? You can visit their website, their Twitter feed, and their Facebook event page.