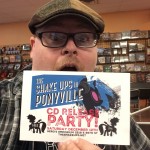 As many of you know, Indiana in general, and Indianapolis specifically, has really found its Geek Stride in the past few years, and this also includes Geeky music. I've featured some of these bands on "Things to Do" posts before, and one of my favorites out of the local Geeky music scene is The Shake Ups in Ponyville. While I'm not a Brony, I do appreciate catchy tunes, positive energy, and things I can share with the Geekling. This band has all of that, in abundant quantities. They currently have two albums out, Mane Event and Power Pony Pop. Their next album, Rock Candy, drops tomorrow (Friday, December 11, 2016), and on Saturday they are holding two shows to celebrate!
The first show will be held at Hero's Emporium, the site of their charity show last September. It is an all-ages, family-friendly show, starting at 7:00 PM. This is the show you want to bring your little ones to, and make sure you bring money for your copy of the CD, and maybe a T-Shirt or two! You can find the Facebook event listing with all of the information here!
Later that evening, at 10:00 PM, they will be performing at Punk Rock Night at the Melody Inn, with a few other bands, for a 21+ show. You can get all of the information on their Facebook event listing here!
Finally, before I go, remember this is to celebrate the release of their new album! If you can't make it to the show, then feel free to get your copy of the album (as well as their others!) at this link! You can also see their fan video, featuring the first single from their album, either on their Facebook page, or right here:
You can also find more of their videos on their YouTube page, as well as on their website!
I hope to see you at the 7:00 PM show at Hero's Emporium, and I encourage you to check out the 10:00 PM show at Melody Inn! Don't quote me, but I'm fairly certain the concerts, as well as the album, will make you twenty percent cooler.
Tony