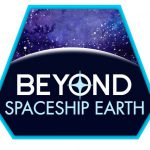 As many of you know, I'm a huge fan of the Children's Museum of Indianapolis, and I really enjoy the exhibits they bring to Indy. From the beginning of this blog, I've written about science fiction costume exhibits (since lost, in the blog crash of '12), Teenage Mutant Ninja Turtles, Hot Wheels, Transformers, and Television and Film. These have all been temporary exhibits, however, which have come and gone in a flash (at least, it seems to me like it's a flash, because they were cool exhibits!). This weekend, however, they are opening a new permanent exhibit, which looks to be just as awesome as these exhibits were. Starting on Saturday, June 25th, The Children's Museum of Indianapolis is looking to take us all on an "out-of-this-world experience" as visitors go "Beyond Spaceship Earth."
Many times, I'm able to visit the exhibit myself, but this time, I'm going to have to rely on information provided to me by the museum. According to their release, here's what's going on:
This all-new, immersive exhibit will tell the dynamic story of space exploration from NASA's Project Mercury program, which sent the first Americans into space, to the International Space Station (ISS). Experience the real scientific work of ISS astronauts, both inside the space station and outside the airlock! Discover the future of space exploration that is being developed by NASA and partners like SpaceX, and don't miss the Indiana Astronaut Wall of Fame, celebrating the many astronauts and engineers connected to Indiana. Exit the ISS into the all-new Schaefer Planetarium and Space Object Theater featuring the NASA space capsule Liberty Bell 7 – which was piloted by astronaut and Indiana native Gus Grissom in 1961 on America's second manned space flight.
Pretty awesome, right? I mean, we have the Liberty Bell 7 here at the Children's Museum! Huge thanks to the Kansas Cosmosphere and Space Center in Hutchinson, KS for the loan, by the way! If you want to see more reasons why you should visit, well, here's a video of Hoosier astronaut Dr. David Wolf talking about space and this new exhibit!
So, head on over to check out this exhibit! I know it's on my list of things to do, this August, when summer courses are over and life (hopefully) calms down a bit! So, here's the information you need if you want to check it out!
What is it? Beyond Spaceship Earth and the Schaefer Planetarium and Space Object Theater
Where is it? The Children's Museum of Indianapolis at 3000 N. Meridian St. Indianapolis, IN 46208
When is it? Opens Saturday, June 25th, 2016!
How much is it? The exhibit is part of the standard Museum admission. No extra fees!
Where can I get information? You can get the information off of the website of the Children's Museum! You can also stay up to date with their happenings by following their Twitter feed, their Instagram page, or their Facebook page!
Tony