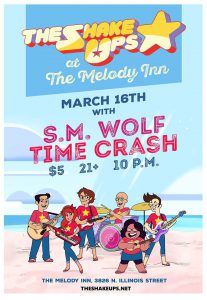 You know, there was a time I wasn't that into local music. What can I say, I would listen to musicals, Weird Al, and Barenaked Ladies pretty much all the time.
Then I discovered our local Geek bands.
In case you can't tell, one of my favorites is the band, The Shake Ups. I count the members as friends, I like to talk about their shows, and I had a really enjoyable podcast episode with many of their members last May (LINK). I find their music fun, upbeat, and it just makes me happy. They have covered The Beatles, and they do original music based on pop culture, singing about cartoons like My Little Pony: Friendship is Magic and Steven Universe, with more projects on the horizon!
On Friday, The Shake Ups will be joined by two other bands to kick off Saint Patrick's Day Weekend at the Melody Inn in Indianapolis! Starting at 10:00 PM, the Mel will feature (in no particular order):
S.M. Wolf – From their website, "S.M. Wolf is a fuzzy, psychedelic, power pop family band from Indianapolis, IN"! I have not seen them yet, and I'm looking forward to hearing new music!
Time Crash – This is a Doctor Who-themed band out of Chicago. I heard them play at a show last year, and while they're not local, they're still fun to listen to!
The Shake Ups – Do I seriously have to tell you? Come on, I was just singing their praises, like, a hundred words ago!
I know I'm going to be hauling my butt home on Friday evening, changing out of business casual to more Geek casual, and heading over to the Melody Inn to check this out! I've never been there, so I'm fighting a bit of "new venue" anxiety, but I hear there's ample parking across the street, and it's a good music venue! So, come! Check this out with me! If you want to join me, here's what you need to know:
What is it? Saint Patrick's Day Kick Off Party, with The Shake Ups, S.M. Wolf, and Time Crash!
Where is it? Melody Inn, 3826 N. Illinois St. Indianapolis, IN 46208
When is it? Friday, March 16th, from 9:00 PM to 12:00 AM
How much is it? $5 cover, plus make sure you bring extra money for the band's merch tables!
Where can I find more info? Here's the Facebook Event Page, and here's the website for the Melody Inn!
IMPORTANT: This is a 21+ show! The Melody Inn is one of the oldest bars in Indy, which means no minors!
I hope to see you there!
Tony