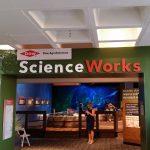 Indianapolis is extremely lucky to have a number of fantastic museums, and one of the top ones is the Children's Museum of Indianapolis. Over the past few years, I've written about great temporary exhibits like Inside Hollywood Films & TV, Transformers: Robots in Disguise, Hot Wheels: Race to Win, and Teenage Mutant Ninja Turtles: Secrets of the Sewer. All of these exhibits take a piece of pop culture, and mix it with something to teach kids. While the museum also has many permanent exhibits that take advantage of Geeky things, and pop culture, sometimes it relies on just pure fascination with the world around everyone as a way to pique a child's interest.
Many of us probably remember the ScienceWorks exhibit on the top floor of the museum. It had the construction site, the water table, and many other activities that kids loved to play with. It just recently had a renovation, and this wasn't just a new coat of paint! Everything has received an upgrade!
The easiest way to tell you what's going on is to take a look at the website of the Children's Museum, where they describe the exhibit:
ScienceWorks, one of the museum's most popular exhibits, is being reinvented to feed the curiosity of the next generation of young scientific explorers! Explore the work of real scientists like hydrologists, naturalists, and geologists. See how people like engineers, farmers, and otherss use science process skills to ask questions and seek answers to help us in our daily lives. – Website
Lizz, the Teen Geek, and I were able to hit the social media preview night of the exhibit last Thursday, before the exhibit opened on Saturday, August 27th. The smell of fresh paint was still in the air, but it was set up well enough to get a good feeling for the exhibit. There is so much to take in! The Water Table is so much fun to play with, especially with the working locks, and the toy boats. There is a good focus on farming, because in case you aren't aware, that's kinda important here in Indiana! They even have a mock-up of a John Deere combine cab that you can sit in, and see what it's like taking the fields out (no, it's not a simulator, so you can't actually drive the combine across the rows and wreak havoc across the countryside. Either way, those cabs are comfy, though you figure they have to be for the folks who are spending more hours a day than I spend in a cubicle in them! The caves and geology were also very cool, and account for a few pics in the gallery below. One thing I really liked (other than the display of all the different rocks and crystals) was something that I put on Instagram, but not on here: Fluorescent Minerals. Press the button to see them under a black light, and they look fantastic! Other things that I have saved for a later visit include the Weather Station and the House, which showed a lot of information on where food comes from, and has a surprise under the porch for kids to discover.
In addition to ScienceWorks, they have opened both the SciencePort and the STEMLab! When I was there, the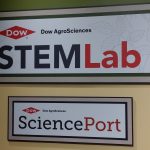 SciencePort was filled with kids (and adults!) putting together cube robots that would perform different functions when assembled correctly! The STEMLab had people making fossils, cheese, and other cool stuff. These are fantastic, hands-on areas that were packed, and are going to be very popular!
ScienceWorks is a permanent exhibit at the Children's Museum of Indianapolis, and is free with museum admission! It is just one of many fantastic rotating and permanent exhibits here, and is great fun for both children and adults! Fore more information, visit their website, follow them on Twitter, check out their Instagram, and check out their Facebook page!
Now, here are a few photos from the exhibit that came out fairly well:
This slideshow requires JavaScript.
Disclaimer: Geeking in Indiana is part of the folks that The Children's Museum of Indianapolis invites to exhibit openings, in exchange for live tweeting and social media coverage. All opinions, comments, and the overall sense of wonderment and appreciation are 100% that of the author, however, and are in no way influenced by the Children's Museum.