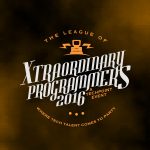 Gen Con is just a few short weeks away, and Indianapolis is already gearing up for the event! Last year, Indianapolis hosted over 61,000 unique attendees for Gen Con, and this year looks to break that record! One thing that's outstanding about Gen Con, other than all the people coming in to see our city, is how local businesses have great activities and events centered around it! One such event is being put on by local tech advocate, TechPoint, on Friday, August 5th! This event is called The League of Xtraordinary Programmers!
"But… but Tony! I'm not a programmer!" Hey, you know what? Neither am I! There is still going to be plenty for everyone to enjoy! I mean, this is being done at the same time as Gen Con, so of COURSE there's going to be board games to play from local game makers! There's also going to be 3D printers that people can tinker with, Oculus Rift VR demos, an R2-D2, and other cool digital technology you can check out!
Of course, being a "Geek of Weight", I'm also excited to see that not only will there be access to light hors d'oeuvres, but there will also be craft beer and cocktails from Hotel Tango Whiskey, as well as a cash bar available, after you use your two free drink tickets that are part of your ticket to play!
All of this will be happening in Indianapolis, on August 5th! Early bird tickets are just $12.00 (through July 31st) and then will go up to $15.00, which is a great cost for this type of event! However, thanks to the folks at TechPoint, not only do you have the chance to win tickets to this event, but you ALSO get the chance to win a pass to the Best Four Days in Gaming, Gen Con 2016! These prizes are offered to all my Geeky readers to help spread the word about this cool event! All you have to do is take a look at the little Rafflecopter widget down there, Tweet what it asks you to tweet, and you'll be entered! You can do the other things for extra entries, and this is running through July 28th, if I set it up right! Or, if you really want to go, and don't want to leave anything to chance, you can keep tabs on the event using these methods:
Tickets can be purchased on Eventbrite.
Join the Facebook event here.
Follow TechPoint for event updates at @TechPointInd and use hashtags #LXP2016.
I hope to see you there!
a Rafflecopter giveaway
Disclaimer: TechPoint provided me with tickets to attend, and the prizes for the giveaway, but the excitement and desire is 100% me! I hope to see you there!