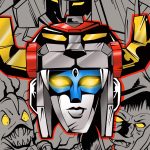 Indiana is home to many types of conventions. We have pop culture conventions, comic book shows, horror conventions, Star Trek conventions, science fiction and literature conventions, the Best Four Days in Gaming ™, and this weekend, you can add "giant robots" to that list! VoltCon! is being held at the Rodeway Inn off I-70 and I-465 in Indianapolis, to celebrate 35 years of Voltron!
VoltCon! is being put on by a local group of volunteers, who have had experience running other conventions here in Indianapolis. According to their website, voltcon.org, "VoltCon! is working in cooperation with World Events Productions (the creators of Voltron) and The Voltron Store, but is in no way affiliated with them, DreamWorks, Netflix, or any of the other licensed Voltron subsidiaries. VoltCon! is an event created by the fans for the fans!" They are planning on touching on all facets of the series, but the focus will be the 1984 series, with it being the anniversary and all.
While it's a fan run show that doesn't have a huge budget, they still have some impressive guests, that span the show's history. Guests who have been integral to the show include:
Franklin Cofod – Producer and director on Voltron: Defender of the Universe (1984), director on Voltron: Fleet of Doom (1986), plus other shows.
Jeremy Corray – Creative Director at World Events Productions (2007-2012), Writer and Producer on Voltron Force (2011).
Robert Koplar – President of World Event Productions, and producer on Voltron Legendary Defender (2016), Voltron Force (2011) and RetroBlasting (2012).
In addition, they will have Marc Morrell and Gregory Tyler from the official Voltron Podcast, Let's Voltron, and Ken Applebaum, who in addition to doing a fanzine and a YouTube channel about Voltron, has also given a Volltron-inspired Tedx Talk. Plus, they will have music provided by DJ Neko Boy and The Shake Ups, who if you recall, did a Voltron-themed album in 2018 (podcast interview here).
In addition to the guests, they have a the normal stuff you love to check out at conventions, like a video room showing episodes spanning the last thirty five years of the series, a vendor hall Space Mall, plus a booth from Comic Carnival (one of their sponsors), and, of all things, a booth featuring Geeking in Indiana located in the media table section in the main hall, where I probably will not have any merch for sale, but instead be talking to people about the local "Geek Scene" and getting plans and ideas down for my upcoming tenth anniversary! In addition to all of this, InConJunction will be doing a Meet and Greet with fans while they're getting the main stage ready for the music, with some snacks and games.
VoltCon! is shaping up to be a cool fan-run show, celebrating Voltron in all its incarnations, and you know there's probably going to be some other giant robot shows represented in the Space Mall (though I doubt I'll see anything from my favorite, Megas XLR). It'll be a fun couple of days with your fellow fans!
So, what do you need to know about the show? It's down below!
What is it? VoltCon, a celebration of the 35th Anniversary of Voltron: Defender of the Universe
Where is it? The Rodeway Inn at 6990 E. 21st St. Indianapolis, IN 46219
When is it? Saturday and Sunday, October 19th and 20th
How much is it? Weekend passes are $35
I hope to see you there!
– Tony