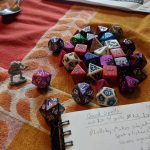 This weekend, Indianapolis is playing host to some awesome conventions! The kind of convention that's locally-sourced, home grown, and done for fun and education! That's right, this weekend is the return of Who's Yer Con and the INDYpendent show at the Wyndham West Hotel in Indianapolis!
First up, we have Who's Yer Con. This convention is put on by Who's Yer Gamers, and it's a "free" gaming convention that starts on Friday, and runs through Sunday. The reason I say "free" is because you still have to go through registration, and get a badge. You can't just walk in and out, all willy-nilly. Plus, if you so choose, you can pay to attend (at a very reasonable rate), which will get you extra stuff, plus a membership to Who's Yer Gamers, PLUS you help pay for the event to keep running. This is the open I've chosen in most of the years I've gone, and I fully endorse this if you have the means! However, if you DON'T have the means, don't let that keep you from the show! That's why it's free! Once you're there, they're going to have a dealer's room, their massive game library available to check out, podcasting done with The Established Facts and Gaming with Scott, and oh so much more! That's a lot of entertainment for $0! However, this is not all!
On the Sunday of Who's Yer Con, they also open up space for the INDYpendent Show! This is a great show that not only showcases local writers and artists, it also works to help educate attendees on how to create their own works from their imaginations! There will be demonstrations and panels from local creators, and they will also be at their tables to show you their work, and talk to you about their processes. This is a really cool and unique show, and it's a great match with Who's Yer Con!
This is the con you really need to be checking out this weekend! Here's the info you need:
What is it? Who's Yer Con and the INDYpendent Show
Where is it? Wyndham West Hotel, 2544 Executive Dr. Indianapolis, IN 46241
When is it? Who's Yer Con runs Friday, March 30th through Sunday, April 1st. The INDYpendent Show is on Sunday, April 1st.
Where can I find more info? Here's the Who's Yer Con website and Facebook event page, and here's the INDYpendent Show's website and Facebook event page!