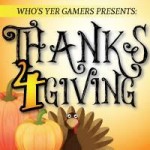 If you enjoy playing board games, charities, and spending all day with your fellow Geeks, then listen up! I've got something you want to know about, and it's going to be a lot of fun!
On Saturday, November 14th, Who's Yer Gamers will be holding "Thanks4giving", a day of gaming to help fight hunger in Indiana! The folks who host our yearly celebration of gaming, Who's Yer Con, will be hosting this one-day show from 9:00 AM to 9:00 PM at the Wyndham West Hotel on the west side of Indianapolis, and while it is free, there is a suggested donation of either $20.00 or 5 – 10 non-perishable food items (come on, the good stuff! Not yams you've had hiding in the back of the cupboard!). The great thing about the cash donations is, Who's Yer Gamers will double the donations, up to a total end of day match of $1,000! So, what does this day of gaming bring you?
First, Who's Yer Gamers will have their huge free game library on site so you can check out games that you might have heard about, but never had the chance to play. Did it look like fun on Tabletop? Have you seen it on the shelf at your Friendly Local Game Shop, but haven't had the money to pick it up? There is a really good chance they'll have it available for you to check out, and play! Not only will they have their library, but for those into RPGs, Pathfinder Society and D&D Adventurer's League will also be there, running adventures. Is that not enough? Have you heard of the Artemis Bridge Simulator? OH YEAH, they'll be there, as well!
In addition, they are going to have local gaming icons there, including Carl Doninger from Indy Pop Con, Bubbernaut from Crit Confirm, John Graham from the INDYpendent Show and FIGID Press, and, well, myself! I will be there with a couple 100 Point X-Wing Miniature Game lists, some Batman Fluxx, and the willingness to try, and probably get beat, at almost any game you set in front of me, starting around 3:00 PM until 9:00 PM when it wraps up. Sorry I can't be there earlier, but I'm registering for spring term that morning.
And if THAT'S not enough for you, there will be an auction of items, kindly provided by the newest game store in Indianapolis, Family Time Games (look for them in tomorrow's FLS Friday post! They're keen!), so you can get your "game" on that way, if you so prefer!
So, if this looks like your cup of tea, here's what you need to know to participate in such an epic day of Geeky gaming greatness, to benefit the Community Kitchen of Monroe County, a United Way agency fighting hunger in Indiana:
What is it? Thanks4Giving
Where is it? The Wyndham West Hotel, 2544 Executive Dr, Indianapolis, IN 46241
When is it? Saturday, November 14th, from 9:00 AM to 9:00 PM
How much is it? The day is free, but there is a suggested donation of either $20.00 or 5 – 10 non-perishable food items. I really hope any of my readers who attend will take this to heart, but I know sometimes it's not something you can do!
Where can I get information? The best place to follow this is the Event Page on Facebook, the Who's Yer Gamers Facebook page, or the Who's Yer Gamers Twitter Feed!
I hope to see you all there!
Tony