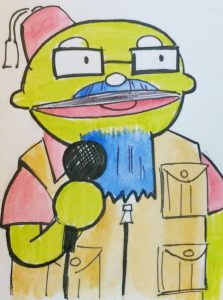 Happy Tuesday, my friends! We are back with another installment of Tuesday Tidbits, where I try to track down events that I think would be of interest to you, my fellow Geeks here in Indiana! Plus, hey, cute animal pictures!
First and foremost, Happy New Year! 2018 is now behind us, and I need to find a new calendar to hang by my desk. I am thinking something Star Trek-related, like the Ships of the Line or something like that. I've also got to sit down and put together a plan for the blog, as I try to figure out how to best manage my time now that I don't have people looking over my shoulder (this is REALLY weird!). 2019 is going to be an interesting year for the blog, as it's going to cease to be just my vision, and also start including the visions of others. In the past, I've had Team Geeking writers like Grant, Bri, Sam, and Michelle, all who have contributed some fantastic articles on the blog. This year? If Grant has time (school takes priority), he'll be writing. However, I also have some new stuff coming from friends, which I'll talk about in a post later this week, as I do the stereotypical "Looking Ahead" sort of thing.
Now, let's move on to what's happening for Hoosier Geeks!
We are now in 2019! Let's look at this month!
January 9th: Prideland Collectibles Grand Opening! There is a section of Washington Square Mall that is a bit of a "Geek" section, which I'll talk about later this week, but for now, I want you all to know the newest comic & collectible shop will be having their grand opening on January 9th! More information will be coming before the day, but mark your calendars if you want to check it out!
January 9th: Little Guardians Signing! Come on down to Comic Carnival in Indianapolis, meet Ed and Lee, the creative team behind Little Guardians! They will be in the shop with their newest collection, and they'd love to tell you about it, and maybe even sell you a copy or two!
January 13th: How to Stop Being Scared and Start Publishing: On Dialogue! This is part of a series of events hosted by Irvington Vinyl & Books, talking about writing. Take a look at the event to see if it would work for you! I know I'm thinking about it!
January 30th: Michael Moreci @ Comic Carnival! Michael Moreci (Star Wars Adventures, Wasted Space) will be at Comic Carnival in Indianapolis from 11 AM to 6 PM, signing his books. This will be the same day Star Wars Adventures #18 and Wasted Space #6 releases!
Heck, let's look at February, while we're at it!
Now, what's happening with the blog, the blogger, and friends of the blog?
Am I missing anything? Use one of those contact links to give me a shout! Have a great week, and I'll see you later! Tony