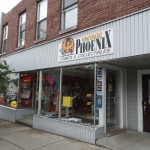 Not every Friendly Local Shop is located in Central Indiana. There are great shops all around the state, that I just don't have a chance to hit due to gas prices, and time. However, when I'm given the opportunity to travel to a different city, you can bet your sweet bippy I'm going to keep my eyes open for any shops to write about. As luck would have it, as we were looking for parking for the Night Vale show a few weeks ago, we found a spot right beside a comic book shop I've heard good things about, down in Bloomington, called Vintage Phoenix. Especially since I was travelling with a couple of Geeks, it took no sweet talking at all to convince them to check the place out.
Upon walking in, you notice that the store is very well lit and inviting. As I've said before, I'm thankful for shops who have realized they don't need to be dank, dark, and dungeon-esque any more. In order to remain alive, they need to be well lit, smell pleasant (which isn't hard with books!), and be inviting to everybody. Vintage Phoenix accomplished this wonderfully. The staff was friendly, the shop was not in the least bit cramped, and they were very well stocked with all manner of books. Oh, the books.
One thing I noticed was that Vintage Phoenix is very much primarily a comic shop. They had a section of books for children, a section for local and independent creators, and more. They have an interesting layout with different rooms, and two of those rooms were full of graphic novels by everyone, from the big publishers to the independents. They have (according to their website, I didn't ask) 1,400 square feet, and it's full of comic books. However, I didn't see many toys and collectibles when I was there. Sure, they had some action figures around the displays, but they weren't as prevalent as they are at many of the other stores I'm used to. This is not a bad thing, though. This shows a focus on the books, which I can appreciate, especially since they have so many of them!
Vintage Phoenix is, from everything I can tell, a great resource for Bloomington! They are well stocked, have an inviting atmosphere, and are friendly! I'm looking forward to popping back in at the end of August when I visit the Indiana Toy and Comic Expo. If you're interested in visiting, here's what you need to know!
Who are they? Vintage Phoenix Comic Books
Where are they? 114 East 6th Street Bloomington, IN 47408
What are they? They are a comic book shop, selling both new and back issues, as well as a great selection of graphic novels and trade paperbacks.
When are they open? Daily from 11:00 AM to 7:00 PM, with the exception of Tuesday (11:00 AM to 5:00 PM) and Sunday (12:00 PM to 5:00 PM)
What is their phone number, in case I get lost and need directions? Call them at 812.333.2930
This slideshow requires JavaScript.