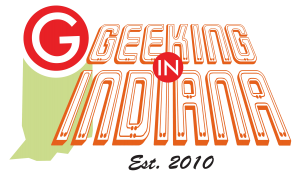 Happy Friday, readers!
You may have noticed that, for months, the blog posts go something along the lines of Tuesday Tidbits, Podcast, Tuesday Tidbits, Podcast, Tuesday Tidbits, Podcast, Tuesday Tidbits, Tuesday Tidbits, Tuesday Tidbits, Podcast, etc. I'm going to be honest, with the exception of some 3D Printing posts, a Gen Con follow-up by Lizz, and "Things to Do" posts for Gen Con, Pop Con, and Free Comic Book Day, it's been this way since the beginning of the year.
If you're one of my Patrons, you know I've been bemoaning this fact for quite some time, but I haven't done anything about it. It hasn't been a lack of anything to write about, though. It's more, I dunno… a lack of motivation? I've been doing this blog, either as the (now defunct) Geeking in SoCal, or as Geeking in Indiana, for close to ten years now, and I admit to starting to get burned out on some things. Sure, Indiana has some fantastic conventions, but when you've been hitting almost a half-dozen a year for the past few years? You really start getting burned out. This is why you'll see "Hey! Hit this convention this coming weekend!" posts, but you're not seeing any follow-up. I'm just getting really tired. I mean, I've had an outline for Gen Con sitting in my "Drafts" folder for months, but here I am, finding it easier to write about why I'm not writing it, than actually writing it. Then we have the shop reviews, of which I haven't written ANY since 2018. This was supposed to be the year where I got out of the house, and got caught up, but once again, here we are.
So, what am I doing?
In all honesty, I haven't been in a great head space this year. I've been dealing with health issues (mental and physical) stemming from last year's hit-and-run, along with financial issues stemming from TWO of last year's hit-and-runs. I've only recently been able to see a doctor, and I've started therapy, and we are slowly digging ourselves out of our financial hole. Now, this doesn't mean I'm going to starting firing up content three to four times a week any time soon, but I'm starting to find enough focus to, well, at least be able to write a blog post talking about what's going on? However, I am going to start writing again, even if it's only one extra post a week.
October is full of events I want to promote, like VoltCon, KokomoCon, Indiana Toy and Comic Expo, and Doctoberfest. I'm not sure I'll be attending any of them (see burnout and bad head space, above), but that's all me, and not because of the actual shows. I think they're all going to be a good time, and I want people to visit them, so I'll be reminding people about them. I've got updates on my building and 3D Printing that I'm going to be putting more focus on, because despite any frustrations that have come from learning and re-learning the processes and techniques, it's still bringing joy to my life, and I want to share it.
I'm not sure what the point I'm trying to make here is. I guess, it can boil down to a few points.
I'm trying.
But I'm burned out.
I'm trying to be less burned out.
I'll be back to form someday
So, thank you all for sticking with me. As tired as I am, I'm looking forward to 2020, because that means I'll have stuck with this for ten years, and I want to do some special stuff for that. In the meantime, keep listening to YGLToN and Social Sci-Fi, I'll be bringing back Indiana Geeking in November, and keep your eye open for some new posts in the next few weeks covering local shows you need to hit, updates on 3D Printing and my Resistance Pilot Costume, and maybe some other stuff.
I love you all, take care of yourselves and each other, and I'll see you next week.
Tony