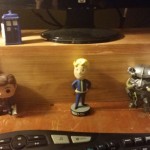 Tis the season for Commerce, which means it's also the season for me to come up with lame lists of "Gift Ideas" which mainly serve as "Hey, did you know they made this cool thing? If you like this cool thing, order it through my link, and it'll give the blog a small commission! Hashtag Feed A Blogger!" Now, since I deleted my Commission Junction account, many of my old lists don't get me a commission any longer, so keep that in mind as you're looking at them. Moving forward, all lists will be going through Amazon!
This week, I'm taking another look at my cubicle at work. Yes, I'm still a supervisor at the same place I wrote about when I did a list "For the Professional" back in 2013. However, that list attempted to be a bit well rounded. Instead, this time I'm looking at things that will help make your desk just a bit more playful. From Funko figures, to toy ships, these are things that I have had, or would like to have, on my desk, and I think you all would, as well!
First, I like me some Funko Pops. Who doesn't like those adorable little figures, that come in just about any license you can enjoy? Personally, I'm really loving the Fallout series right now. I have the Lone Wanderer (Male, though it does come in a Female version, as well) and the Power Armor figure sitting below my monitor here at the Geek Cave, and I'd love to mix them up with a Ray Stantz Pop from Ghostbusters, and an Adipose from Doctor Who. At work, I'm mainly Star Wars Episode 7 right now, with a BB-8 figure that really needs a Poe Dameron to go with it. Added bonus: BB-8 is a bobblehead!
Next up are the models and toy ships. Now, no matter how trustworthy your co-workers are, you probably aren't going to want to put a nice model or statue up. However, Hot Wheels makes some (for the price) great looking ships, with play stands that double as display stands! Currently at work, I have the Poe Dameron X-Wing Fighter, and the TIE/FO Special Forces Fighter, but I used to have a whole dang fleet. Lately, I've also been looking for starships from Star Trek to add to the fleet/collection, and Eaglemoss makes some pretty cool ones. I normally see them at the local comic shops, though it looks like Downtown Comics normally has the most varied selection, but you can also find them on the Amazon. Some of the top ships I long for include the USS Reliant, the USS Enterprise 1701 Refit, the USS Excelsior, the USS Grissom, and the Enterprise D from "All Good Things". However, as these are a bit pricey, I'll be keeping them at the Geek Cave office. Moving to something a bit more terrestrial, I want to continue looking at Eaglemoss stuff for a minute, and pull up their Batman collection. See, not only do they have Star Trek ships, but they also have Batmobiles. A lot of Batmobiles. Some of the top ones I want are the 1989 version, the Tumbler, the Animated Series, and of course the '66, but they are all pretty cool. Plus, one thing that's really cool about all of the Eaglemoss collectibles is, they come with a magazine talking about the collectible you purchased.
Finally, there's the ever popular Loot Crate! Loot Crate is a monthly subscription box that comes packed with cool Geeky stuff based on a theme. The Vault-Tec bobble head in my pic? Came in last month's crate (thanks, little brother!). I've also had other things that get displayed, like a Terminator skull, various Funko Pops, and other cool items!
Well, there's a few items, ranging from the $10 range to the $50-$60 range. Do you have any tips for what to have on the desk that will bring a smile to the drudgery of the work day? Give it a shout in the comments!
Tony