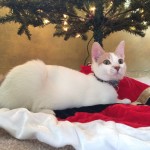 We're down to crunch time. Christmas Eve is a week from tomorrow, and you have all of your shopping done, right? You've purchased things for your parents, your siblings, your nieces and nephews, your children, your grandparents, your aunts and uncles, your significant other, and even the mailman. You're good and done now, right?
Did you remember Fluffy?
That's right, your pets deserve a little something! After all, you have a kitty that's probably been completely banned from a room, soaked with a water bottle, or even shut into a crate or separate room because of the Christmas tree. You have a dog that's going crazy because you have to keep running the vacuum, thanks to all of the guests stopping in between Thanksgiving and New Years. These furry members of the family deserve to join in on the festivities, as well! And if they're a Geek Pet, like Reiki the Geek Cat (now, I can't attest to Reiki's Geekyness, but he does wear a Chewbacca collar, and he's never tried to take it off!), there are some really cool things you can get them!
First off, since tomorrow is the big day, did you know Petco has the Star Wars license for pet supplies? They carry items for both dogs and cats, like the aforementioned Chewbacca cat collar. Reiki also has the Millennium Falcon and TIE Fighter Cat teaser toys, which he really enjoys playing with. Since he also enjoys chasing after little stuffed mice, I'm also thinking the Darth Vader/Stormtrooper mouse toys, along with a BB-8 Wobble toy, would go well in his stocking this year. They also have stuff for your canine, and so much more than they do for cats, because dogs will actually let you put them in outfits! Hit the link at the beginning of the paragraph for all of their Star Wars items! (Note: Not affiliate links, just really dang cool!)
For the Star Trek fan, there's a whole line of original series items for your pup! You can get them a Captain's Chair bed, bring them for a walk with their Command Yellow leash and collar, hold their doggie duty bags in a Communicator, and feed them out of a Sciences Blue bowl. Amazon is running low on a lot of the stuff, but it gives you a good starting point to track down your own Red Shirt plush chew toy! (Note: These are affiliate links, because I've got bills to pay!)
Finally, for some just plain fun randomness, what better thing than a Suck UK Cat DJ kit? Wanna see your kitty really scratch? There ya go!
Let the furballs join in on the festivities!
See you all tomorrow!
Tony