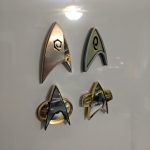 First off, yes, I know I've done a posting of Affiliate Links for Star Trek items in the past. First off, it was almost four years ago, and it's a bunch of dead links (here's the post, if you don't believe me)! Since I haven't had the chance to update it (and I will, eventually), plus since Star Trek Discovery premiered this past weekend, all the pieces seemed to slip into place on doing a new Wish List Wednesday post! This one, however, will be slightly different. Some of the links will be Amazon Affiliate Links, and those will be marked accordingly. However, other links will be to other cool shops, especially because it comes to costume pieces and patterns that I think are really cool!
This is actually want I really want to look at, today. As you know, many of my blogs are just as much information for all of you, as it is a place for me to store ideas, links, and other fun tidbits. So, today's "Wish List Wednesday" is going to not only look at Star Trek, but also Star Trek costuming. This is based on my searching (remember my Costuming bucket list? I did!) over the past few years, and while it is by no means comprehensive (that info will be coming as I work on different costumes), it will still give you an idea of why some of these, I'll look at pre-made, while some, I'll look at making my own.
So, let's go down the line of what I've found in the different Star Trek series, and costumes, eh?
The Original Series
Ah, the sixties. These uniforms are classic, and shouldn't be too hard to make, if one could just source the fabric. If you can, there's a pattern through Roddenberry for the men's tunic, which runs a bit small, to my understanding. A quick Amazon search for "Star Trek TOS Patch" brings you the items found at this Affiliate Link, and another search will bring you to these Affiliate Link results for the rank braids. Of course, if this isn't your speed and you're willing to spend the funds, there is always the uniforms through Anovos, for both Men and Women! Of course, you also need a communicator, so you can keep your phone in your pocket. That's where this handy Affiliate Link for the Wand Company's Bluetooth Communicator comes in to play!
Star Trek II – VI
Next up is the holy grail of Star Trek costumes, at least in my book. Lovingly referred to as the "Monster Maroon" uniform, this is the sharpest dang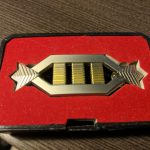 uniform used, and also looks like a tough one. Once again, Roddenberry has a patterns for the jacket (Male), the pants (Unisex), and the ribbed turtleneck undershirt (Unisex). All the insignia is located from so many resources, it's not even funny. I know the Amazon searches lead to a ton that, since I haven't looked at them that closely, I don't want to throw them out there. Also, license holder Anovos has limited supplies on the undershirts and pants available, they have an "interest" list on the belts, and they have Captain and Rear Admiral rank pins, the pins that go on the sleeve, and the "security" devices that go on the back shoulder. And, I must say, I have one of the Captain pins (pictured right), that was gifted to me from my little brother who received it in one of those Loot Geek boxes out there, and it's pretty dang sweet.
The Next Generation
Oh, friends, here is where the fun starts! Sure, you could spend a lot of money through Anovos (I'm done linking to them), or you could head on over to Etsy to Bad Wolf Costumes, and check out their stuff! They have patterns for the TNG uniforms for both Women and Men! Plus, they normally have pretty awesome tutorials that help you read the pattern, and make sure you're putting together everything correctly! Top it off with a magnetic QMX Combadge (seen above) and some rank pips, and you're solid!
Deep Space Nine/First Contact
Another (from what I hear) great pattern from Bad Wolf is the costume seen in First Contact, Insurrection, Nemesis, and the later seasons of Deep Space Nine. They have a bunch of patterns for the undershirts, jackets, and so on, but for the best bang for your buck, you want to look at the bundles. They have a bundle that includes patterns for the standard crew jumpsuit for this, as well as Voyager, along with the undershirts. They also have another bundle for the Captain's Ensemble, which has the jacket and trousers separate, as well as the vest and undershirt. To round this out, we can also look at their Voyager bundle, which once again has a separate jacket and trouser combo, and the duty undershirts, as well. Once again, this is best topped off with a magnetic QMX Combadge (Affiliate Link) and some rank pips, and you're good to get fighting Borg, the Dominion, or lost in the Delta Quadrant.
Enterprise
Finally, we have the Enterprise jumpsuits. Sure, this series might have gotten a bad name with a lot of Trekkies, but what can I say? I'm a fan of jumpsuit-style costumes, and I'm a fan of pockets, which this has in spades! Sure, you could go for the Anovos suit for $500, but they don't have my size available. So, instead, I'm looking at yet another Bad Wolf product, which gives me the Enterprise uniform pattern, along with the undershirt (which I can find nothing about on the Anovos page), in another bundle deal! Now, all I have to do is find those weird rectangular zipper pulls, and I'm good, since I already have an old Enterprise uniform patch from Roddenberry!
There is, of course, other stuff needed, like boots and the like, but I will save that for when I write posts about the actual costumes, in the future. There are also some snazzy costumes from the newer films, as well as Discovery, but at those use custom fabrics, those are probably best sourced through Anovos, which doesn't need any more linking.
Do you have better tips? Better patterns? Better ideas? Let me know!
Tony