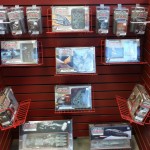 Back in July, I wrote about my new board game love, the Star Wars X-Wing Miniatures Game. I really enjoy this game, and the large amount of ships you can get for it, that you can either use to play the game, or just put on a shelf and look frakkin' awesome. Since I'm still a huge fan of this game, I thought it would be a good theme to kick off "Wish List Wednesday", which will be happening now, through Christmas. So, here's the deal: this post is going to be full of affiliate links. If it's a link to a product, it's an affiliate link. However, please remember to check your Friendly Local Geek Shop before ordering off of Amazon. Sure, I could get $0.86 commission off of a ship sale, but I'd rather see that money go towards a local store!
First off, if you've never played, or if you started playing before it came out, you need to pick up the Star Wars X-Wing Miniatures Game Core Set, the Force Awakens edition. This comes with one of the new X-Wing Fighters, two of the new TIE/FO Fighters, and all the dice, counters, and cards you need to play a game, including the new and improved damage deck. I have the original Core Set, which came with the old-school X-Wing and TIE Fighters, as well as the old damage deck. I'd like a new one, since they are going to be more common, and required (though, they keep waffling on this) in organized play, in the future, and you're probably going to want the same.
Now, we all want more ships, right? The Aces packs are a great way to get some good ships, with good pilot cards. For those who prefer the lighter side of the force, you have the Rebel Aces, which come with special versions of the A-Wing and B-Wing ships. For those who prefer their lightsabers to have a reddish hue, there is the Imperial Aces pack, which comes with two special versions of the TIE Interceptor. Finally, for those who just prefer to hang out at Mos Eisley, there is the Most Wanted pack, which comes with Scum versions of the Y-Wing, and two Headhunters.
If you're looking at some of the bigger ships, ones that I've enjoyed flying have been the Millennium Falcon, and Slave One. One I'm really wanting to add to my collection, though is Dash Rendar's Outrider, the YT-2400. What can I say? I'm a sucker for Corellian freighters. I've also heard good things about the Lambda Class Shuttles for the Imperials. Finally, while they don't really do anything for standard play, if you love the big ships, and have some spare cash to drop, some definite Wish List items are both the Tantive IV for the Rebels, and Imperial Raider for the Imperials (with a bonus TIE Advanced!), both of which will add more play options, as well as just looking awesome as a shelf display.
Finally, the next wave of ships are going to be out right after Christmas, but they are still items that I need gift cards for, and they're ships you're probably going to look forward to, as well! This wave is great for fans of the cartoon Star Wars Rebels, and the ships I'm really looking forward to are The Ghost and the included shuttle, The Phantom, the Imperial Assault Carrier, with two included TIE Fighters, and the Inquisitor's TIE from the series.
Trust me, if you get even a portion of these ships, you're going to off on a good start, and ready to have fun at your local shop, playing with friends, or just looking at the cool little ships!
Are there ships you think I missed? Give me a shout in the comments!
Tony