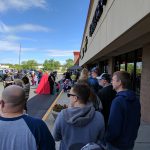 This past weekend was chock full of Geeky fun and awesomeness, all capped off with Guardians of the Galaxy Vol. 2 on Sunday morning. Today, I'm going to talk a bit about what I did, who I saw, and what was awesome about it!
First up, on Friday night, it was the Strange Universe Music Night (Things to Do Link Here) at Radio Radio. Since the show was later, we hit The Mug in Irvington for dinner, and then hit Hero House Comics to pick up some books to support this great little shop. After the doors opened, we hit the venue and got seats at a table towards the front, behind one of my awesome Twitter friends, Starwynd. A bunch of us talked until the music started, and that's when the night really began. First up was the Chicago-based Time Crash, which plays music based on Doctor Who, and features a "GuiTARDIS" which I really wish I had taken pictures of. I had listened to some of their music before the show, and I really enjoyed their live act. Next time they come down, I need to grab a CD. Next up was my latest podcast guests, The Shake Ups (Link), launching their new CD, "The Shake Ups in Beach City." The floor in front of the stage was packed, and the band played some great music, not only from their new CD, but also from their Ponyville CDs and their Beatles set. Finally, we had The Goblin King, which was a David Bowie/Labyrinth act that was a great show, as well! It was a great evening, and a fun kick-off to the weekend.
Saturday, we slept in a bit before hitting the road for Free Comic Book Day! Since we started late, we only hit two locations. First up was Downtown Comics in Castleton, which hosted Lee and Ed from Little Guardians, a ton of cosplayers, and the Circle City Ghostbusters, who were raising money for the Peyton Manning Children's Hospital (over $1,000! Way to go!)! We each gave a buck and spun the wheel (Lizz got cupcakes, I got a Twinkie that, sadly, was neither 600 lbs. nor 35 feet long) before grabbing a bunch of free comic books, as well as some Wonder Woman books and issue one of Ghostbusters 101. We then headed north to Muncie, to drop in on Aw Yeah Comics' festivities. We did not head upstairs for autographs, but we did pick up some books, congratulate DOCTOR Christy Blanch on receiving her doctorate, and noted that we had to come back really soon to get caught up, and take pictures of their renovated store. That evening, we had dinner with our good friends Matt and Kendra, and headed home a bit early to catch some sleep.
Sometimes, you have the opportunity to just have a great weekend of Geekery, that does not involve a convention. The first weekend of May is always one of those weekends, with Free Comic Book Day, the release of a MCU film, and a bunch of other happenings. We sadly missed Star Wars Night with the Naptown Roller Derby, for instance, because there was almost too much good stuff happening. Thanks to everyone who helped make it a great kick off for a birthday month, and a fun final homework-free weekend for Lizz!
Enjoy the moments, revel in your fandoms, have a great day, friends.
Tony