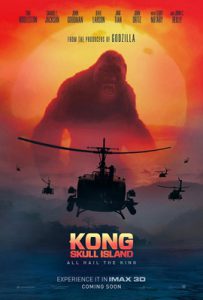 I do my best on a daily basis to be a well-rounded geek. I try to participate in as many fandoms as I can, if only just to experience what brings so many people joy on a daily basis, and see if it's for me. However, each day I discover many fandoms I was unaware of, or just simply never had the opportunity to experience myself. One of those said fandoms has recently opened its arms to me: the kaiju-film, or giant-monster movie fandom. Now don't get me wrong: I've seen several monster films in my day, and I tended to enjoy them. But the classics, like Godzilla or King Kong? Unfortunately, I am a novice in that regard.
I am so very thankful that I had a film like Kong: Skull Island to show me the light.
In this 2017 re-imagining of the classic giant ape, a ragtag group of soldiers (Samuel L. Jackson being the stand-out) and scientists (John Goodman and Corey Hawkins), along with Tom Hiddleston's British explorer and Brie Larson's anti-war photographer, make their way to the titular Skull Island, and obviously find more than they're prepared for.
The movie was fun, fast-paced, exhilarating, intense, and brutal all at once. I was impressed by all the performances in the film, especially Sam Jackson, who developed a Moby Dick style obsession with Kong, and John C. Reilly, who made me laugh and cry in equal measure as his stranded WW2 pilot who had been on the island for years. The action sequences throughout were breathtaking and extremely memorable, with Kong's helicopter-bash towards the beginning being a definite standout. But that brings me to my main point about Skull Island: the movie is just breathtakingly gorgeous. Sweeping shots of the island, emotional closeups of ragged and tired faces, the mysterious natives: everything was just so darn pretty to look at. I didn't expect that level of attention to detail in a giant monster flick, but I was extremely impressed.
Now, I want to use this film to talk briefly on a trend in Hollywood that I'm not a huge fan of at the moment: the connected universe. It seems that every major studio wants to jump on the success of Marvel's film universe, but I don't think many have been successful. To bring it back to Skull Island, I want to point out that this film is technically a follow up to 2014's Godzilla. I also want to point out that, unlike most, I think this movie was very successful in helping to established a shared universe. It didn't shove down your throat that Godzilla or other monsters share this particular Earth with Kong, but subtly sets it up through John Goodman's character, a crackpot theorist and representative of Monarch, an organization from the aforementioned Godzilla film. Then at the end of the film, when our surviving characters have come to learn that monsters exists, they also learn of the existence of some classic monsters that I won't list here, but fans of old Godzilla and kaiju films would love.
Kong: Skull Island is rated PG-13, and contains intense (yet awesome) scenes of violence, blood, death, and a few swears. And I can't recommend this movie enough. If you're a fan of action spectacles, check it out. If you're a fan of sci-fi adventure and giant monsters, check it out. If you're a fan of unexpectedly beautiful cinematography, then definitely check it out. The movie is now out on Blu-ray, DVD, and 4K, as well as on demand through cable providers. Please, everyone, see this film.
Until next we meet,
Grant