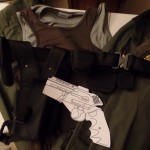 Updated October 16th, 2020
For the first years of the blog, costuming was kind of a side item. It was a bit of filler as I wrote about conventions, shops, creators, media, and everything else happening around Indiana. In 2020, I'm starting to put more focus on replenishing my costume closet, among other things. I also am taking a look at unfinished projects, as well as taking a look at projects once thought completed, but it turns out they need some more work. I admit, as I've been doing this for a while, some of these posts are out of date, and talk about products that are no longer available. For example, both the "Double Tank Top Replica by Anovos" and "Vault 101 Jumpsuit, Bethesda Store" posts talk about items that have not been available for a number of years, but I just can't bring myself to remove them from the blog. To help you know how "relevant" the post is before you click on it, I've gone ahead and added the posting date to each entry.
So, in a nutshell, here is where you can find all of the posts about my costume work. Some of these posts might double up over on the Geek Building page, as well, since many items cross over from one to the other. Either way, enjoy!
A-Wing Pilot (3/13/2015) – My first foray back into Star Wars costuming after approximately ten years. Not long after completion, new information came out about the costume, which means it's on deck to get reworked. Once the rework starts, I'll drop this down into the same format as the other costumes I'm working on.
Fallout 3 (In Progress, low priority)
Rebel Fleet Trooper (In Progress)

Rebel Fleet Trooper Costume – An Introduction (10/9/2020) – As we roll into Autumn of the 2020 Pandemic, I start reworking my RFT from Star Wars A New Hope. The introduction is my history with the costume, what I've done so far, and giving information on where I'm getting everything else.

Resistance Pilot (In Progress)
X-Wing Pilot (In Progress)

X-Wing Pilot Costume – An Introduction (10/16/2020) – Back in 2001, the first Star Wars costume I made for myself was the X-Wing Pilot from A New Hope. Due to many unfortunate circumstances, that costume is no longer with us, so I'm going to piece it back together.
General Articles