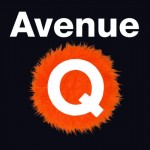 For those who don't know, I am a HUGE theater geek. More specifically, I am a huge musical theater geek. Starting in my sophomore year of high school, I was involved with theater at my school, having roles in Grease, Annie, and Hairspray. I have a love for performing, and there is at least one song from most musicals that I cannot stop listening to. Last Thursday, the IUPUI Performing Arts Club, which I am a part of, got to go see the final dress rehearsal of Footlite Musicals' production of Avenue Q, my personal favorite Broadway musical. While this isn't traditional "media" I'd usually cover, I felt that since I have the means, I should give a bit of a shoutout to the great folks over at Footlite Musicals! Now, let's dive in.
Avenue Q, or Grown Up Sesame Street in my opinion, is the 2004 Tony Awards Best Musical winner. Using a mix of human characters and puppets, Avenue Q tells the story of Princeton, a twenty-something college grad who is experience the garbage of life for the first time. As Princeton moves his way all the way out to Avenue Q, he learns about money, jobs, relationships, and how all of those things can suck, all while searching for the ever-elusive "purpose" in life.
As I said before, Avenue Q is my favorite musical of all time. I love the use of puppets on stage, conveying a Sesame Street style but covering such adult topics as racism and homeless. The show truly is laugh out loud hilarious, and the music is absolutely outstanding. Some of my personal favorite songs include "It Sucks To Be Me", "Everyone's A Little Bit Racist", "If You Were Gay", and "I Wish I Could Go Back To College". The show very accurately and humorously covers all the sucky parts of life, but ends with the message that no matter how horrible things get, it is only "For Now".
Because we were invited to watch a dress rehearsal, I kept in mind that it wouldn't be perfect and that there would probably be mistakes. But I had no need to worry about that. The great folks at Footlite Musicals put on an incredible show, bringing the story of Avenue Q to life beautifully. The actors who portrayed Princeton and Kate Monster, Phil Criswell and Emily Schaab, were particularly outstanding. The music was played wonderfully, and I recommend this show to everyone in the Indianapolis area who is looking for a good time. However, there is strong language and mature things, so you probably shouldn't bring the kids to this one.
Footlite Musicals' production of Avenue Q is currently running through the month of March, every Friday, Saturday, and Sunday. You can find tickets, as well as more info, here on their website. Everyone over at Footlite is a volunteer, which makes the effort and quality of their productions even more mind blowing. Please everyone, go watch their shows and support some amazing local artists. And keep an eye out; one day, I may even get a role in one of their productions! Shameless plug, activate!