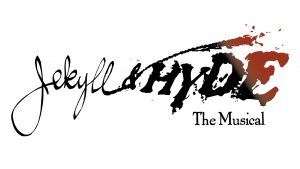 I like to use this blog as a creative outlet. I've always found myself to be a creative person, what with my interests in writing, singing, and acting. One of my absolute favorite ways to express myself is through musicals. Musicals are a perfect blend of music and acting, telling wonderful or outlandish stories through song. I know it isn't inherently Geeky, per say, and this is kind of self-promotion, but I have the wonderful opportunity of being a part of Footlite Musicals' production of Jekyll & Hyde!
I wrote about Footlite before, with my post about Avenue Q a while back. Footlite is a wonderful little community theater on the north side of Indy, and it is 100% volunteer. Back in May, I had the opportunity to audition for a new production at Footlite, and lo and behold I got a part! Footlite's production of Jekyll & Hyde is a young adult production, and I can't believe how wonderful this cast is. Of course, everyone always says that about theater productions, but I honestly believe completely that this is one of the most talented casts I could have ever had a chance to work with. I tried to find other productions of this show on YouTube seeking motivation, but I couldn't find any that sounded as good as we do. Yes, I'm slightly biased, but we do sound very good. I live in Kokomo, so I had to drive an hour to every rehearsal, but it was absolutely worth it just to work with these fine young performers.
In brief, spoiler-free words, the basic plot of Jekyll & Hyde involves one Dr. Jekyll researching the truth behind good and evil. Finding that no one supports his crazy ideas, Jekyll takes the testing into his own hands, with dark and murderous results. I play the Bishop of Basingstoke, a member of the Board of Governors in charge of the sanatorium which Jekyll attempts to get a test subject from. It is a small role, but an important one, and I am extremely excited to portray this character on stage!
I encourage everyone to come out and see this show. We have put so much blood, sweat, and tears into making this one incredible production, and I believe it has all paid off. Our first performance is this Friday, July 8th, at 7 pm. There are eleven performances throughout the month of July. Tickets and more information can be found at footlitemusicals.org! I hope you all can come and see me on stage!
*This shameless self-promotion allowed and encouraged by Tony!
** Yes, yes it is! – Tony