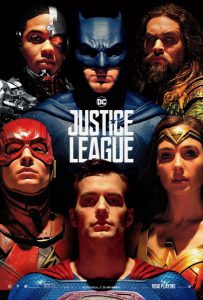 When it comes to comic book movies in recent years, DC has really been lacking. Marvel demolished the market with its successful cinematic universe, so it only made sense that DC would follow suit. But, with gloomy Superman and convoluted plots and Jesse Eisen-Luthor, the DCEU has been unable to keep up. This truly breaks my heart. I love DC comics and, though this opinion may get me crap on the internet and among my friend circles, I like their comics and characters way more than Marvel's. My childhood was spent adoring Batman, Superman, Green Lantern, Wonder Woman, and all the rest. I inherited loads of DC comics from my dad and grandfather, and I would watch the old Justice League and Teen Titans cartoons constantly. Over the summer, my hope for the DCEU grew with the incredibly awesome Wonder Woman film, so my hopes were extremely high for Justice League.
The film was good, not great, and I was not disappointed as I left the theater.
Justice League is the Avengers of the DCEU; all the big name heroes come together to save the world and form a team along the way. The action is tight, the humor is excellent, and the movie is decently paced. Ben Affleck reprises his role of Batman, and he is in charge of getting the gang together to stop the villainous Steppenwolf and his army of Parademons. I enjoyed myself heavily in the theater, and I only wish that the film was a bit longer.
Overall, I found this movie to be well-cast. Affleck and Gal Gadot continue to do a nice job of bringing their respective heroes to life and, while bland as a character, Ciaran Hinds delivers Steppenwolf's lines with a sinister growl and excellent intimidation. Newbies Ezra Miller and Ray Fisher bring their characters of Flash and Cyborg to life very well, with Miller exceeding my expectations. While his portrayal was great, I was disappointed with the lack of Jason Momoa's Aquaman throughout the film. My favorite role in the film, however, belongs to someone that I will hide behind a spoiler wall.
***MINOR SPOILERS AHEAD***
If his presence in the trailer didn't give it away for you already, Henry Cavill reprises his role as Superman in this film, who makes his wonderfully triumphant return. While his resurrection does differ from the comics, Cavill's performance works wonders for a Superman who is finally written to be happy. Gone is the dark and broody man from the previous films. This Superman is full of joy, cracking jokes and smiling while expressing his joy to once again be alive. And you know what? It's about time. When he bursts onto the scene in his newly-brightened costume towards the climax of the film, I found myself actually smiling and bouncing in my seat. I love Superman and everything he stands for, and I was beyond happy to finally see the Superman I know and love represented in the DCEU.
Overall, while not as good as Wonder Woman, Justice League succeeds with what it set out to do: Unite the League. And while he was generally bland, Steppenwolf's defeat leads the DCEU to a brighter, more exciting future. That post credit scene also solidifies my excitement for the direction these films are now headed. While not excellent, Justice League once again gives me hope that I will see these characters I've adored since childhood working together on the big screen. Here's hoping!
Thanks for reading,
Grant