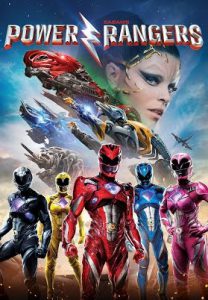 It's hard to imagine my life without the Power Rangers. Ever since I was born, they've had some kind of presence in my life. The Power Rangers series was kind of a family affair for me; my dad watched Mighty Morphin' when he was a young adult, and once I was born, we would watch each new series together as a kind of bonding experience. So, when they announced a live action movie set to release in 2017, I was excited. Then, the first trailer came out, and I was less excited. Somehow the movie completely slipped my mind as time went on, and I had forgotten it was even a thing until a couple of days ago. I decided to go ahead and give it watch, as even though I had my doubts, many people had told me that it was fun and better than expected.
And boy, they were right.
This movie was better than it really had any right to be. The story was engaging, the characters were mostly relatable, and the visual effects held up. I expected this movie to be a train wreck, but I was happily blown away.
The story is pretty straight forward: the evil Rita Repulsa has returned, so Zordon must find five teenagers with attitude to become the Power Rangers and defeat her. Same as the show! But, it was so much more than just the show. There were twists to the Rangers' mythos that were unexpected and pleasing, and the movie managed to actually make the Power Rangers work in a more serious, less campy setting. The Zords were awesome, the armor was awesome, Zordon's new look was awesome; I thoroughly appreciated all the updated looks.
Overall, the performance in the movie were pretty good, though a few stand out to me. I LOVED Bryan Cranston as Zordon. He was intense, emotional, and had a great voice for the powerful leader. All of the rangers themselves were great, but the stand out to me was RJ Cyler as the Blue Ranger, Billy. He played a great outcast, the one that no one understood but brought everyone together. He also had a great character element that I'll talk about more soon. Unfortunately, Elizabeth Banks stood out as well, but not in a good way. Her performance as Rita was just way too campy for the tone the movie tried to set, and she used that vague accent that some actors use when playing more wacky characters that just sounds bad and doesn't work. Love Elizabeth Banks, don't love her performance this time around.
The thing about this movie that really stuck me was the updates they made to the characters to fit a more modern viewpoint. All of the Rangers were outcasts in different ways, and the diversity between them was incredible. The Yellow Ranger struggled with her sexual orientation; the Pink Ranger was a cyberbully who regretted her actions; the Black Ranger had a single parent whom he had to support. But the biggest aspect to me was the Blue Ranger: he was on the spectrum. The Blue Ranger had autism, and it was represented in a positive way. I don't have much to say, other than I was impressed. You don't see that very often in movies.
I went into this film expecting to hate it, but came away loving it. It truly renewed my love for the Power Rangers. It's unfortunate that this movie didn't do so well; I think more people should see it. Everything (except Rita) worked for me. It definitely warrants a re-watch or two, and I'll definitely be getting the Blu-Ray.
Speaking of, the movie is available on DVD and Blu-Ray, and I've got a handy Affiliate link for you right here. The movie is rated PG-13, but I think it'd make a good family night viewing. I'm definitely gonna be sharing this one with my friends.
See you next time folks!
-Grant