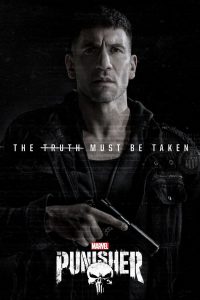 Marvel and Netflix have had a relationship that most fans would claim is undeniably awesome. In early 2015, Netflix released the first of a series of shows based on Marvel properties, the critically acclaimed Daredevil. What followed was a series of new shows and follow-up seasons, ups and downs in fan reaction and quality, but overall an incredibly satisfying series of excellent comic book shows. Daredevil's sophomore season introduced the streets of New York to the Punisher, a character that had experienced a less-than-quality ride in the film industry. I wasn't sure how I was going to feel about Frank Castle's Netflix debut, but my excitement won me over, and Punisher proved to be the best part of season 2 in my opinion. I knew it was inevitable that a spinoff would be produced, but I was sad to see he wouldn't be included in Defenders. What did this mean for his role in the universe? Would his show have any connection to the others? As time went on, my excitement for this show declined and, when it released a few weeks ago, I almost skipped The Punisher.
Boy, am I so very glad I didn't skip it.
Coming off the heels of the release of The Defenders, Jon Bernthal's second outing as the titular vigilante is a nice contrast. Compared to the team-based world saving antics of the other heroes, Punisher delves deep into the conspiracy, and one mans attempt to lie low. This show was slower than I expected, but so much better for it. Instead of the gore filled action of the last Punisher film, this show takes the route of drama and emotion, focusing hard on Frank Castle's PTSD and quest for vengeance. Subplots about the treatments of veterans and what happens to soldiers when they come home make this show extremely socially relevant, and a good set of villains tied directly to Castle help bring it all together.
Jon Bernthal was the best part of Daredevil season 2, and he continues to amaze me here. This man so easily captures the pain and rage, the sadness and violence of a man truly tormented by his past, present, and future. His performance was nothing short of inspiring. Ebon Moss-Bachrach brings the character of Micro to life in a way that really shows the similarities and differences between he and Frank. This man is also plagued by past mistakes and decisions, and yeah, it causes him to suffer, but he also brings a kind of uncomfortable hope to role that really shows off his range. Ben Barnes is awesome as Billy Russo, and Amber Rose Revah makes you root for the law in her performance of Agent Madani. And of course, Deborah Ann Woll returns from Daredevil as Karen Page, serving as our connection to the larger Netflix-verse. The connection between her and Frank from DD season 2 is explored more, and she is just a joy to watch.
This show was not what I was expecting out a Punisher show at all, and I love it for that. The slow pacing, gritty emotion, and grounded conspiracy plot all help this show accomplish what no other adaptation of the character has done before. Honestly, though each show has its own merits, I think this might be my personal favorite Netflix Marvel effort yet. It really leaves you with a lot to think about, and a lot to process.
The Punisher is available to watch on Netflix, and though I've sung praise for how different it is from other attempts at adapting Punisher, this show does still contain uncomfortable violence, gore, and sexual situations. If you were a fan of the character in Daredevil, I cannot recommend this show enough. It surprised me, and it might just surprise you too.
Thanks for reading,
Grant