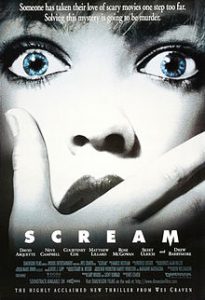 In an ideal world, without illness and deadlines, I would crank out nothing but horror movie reviews through the entire month of October. Heck, I love them so much, I could honestly write about nothing but horror films! Every few weeks, I find myself watching something that most horror films consider a classic, but I've never seen. Most of the time, I love the movie after I watch it, and this weeks spooky film is no exception. To celebrate the day before Halloween, I watched the Wes Craven classic slasher, Scream.
And I had a glorious time.
Scream has all the elements of a classic slasher flick: a masked killer, unique and bloody kills, and a powerful final girl who inevitably outsmarts the killer. However, this movie goes the extra mile: this whole film is not only a slasher, but a commentary on slasher flicks. It plays up and points out all the tropes, allowing twists and turns that both glorify and subvert common scary movie tropes. There's even a character who works at a video store, and the whole point of his role in the film is to be a scary movie both and point out the rules!
The cast really makes this film shine. Neve Campbell plays courageous and smart Sidney Prescott, and does a great job not only capturing her fear, but her resolve as she realizes she's had enough of Ghostface, the killer. Courtney Cox is great as Gale Weathers, a reporter that I rooted for while also wanting to punch. David Arquette is great as a bumbling yet dedicated small town cop named Dewey, and the rest of the cast is rounded out perfectly with Rose McGowan, Matthew Lillard, Jamie Kennedy, Skeet Ulrich, and of course, Drew Barrymore.
Ah, Drew Barrymore in Scream. The 90s never saw this coming.
As any horror film goes, this film is bloody, and some sequences are very intense. However, I feel like Scream's meta-narrative about the nature of horror films makes it more easily stomach-able, as well as funny. I wasn't really expecting this to have comedy elements, and they really help make the film as great as it is. Plus, I'm a huge fan of Ghostface's design: while he doesn't have as many movies under his belt as, say, Jason Voorhees or Freddy Kreuger, I think Ghostface remains a classic slasher villain based on design alone.
Film with twists, turns, and humor that will impress any horror film buff, Scream is a bloody good time. If you're a huge horror fan like me, and yet haven't seen this film yet (like me), I recommend it so much. You gotta see this, it really holds up and good, smart horror. If you're not a huge horror fan, but like getting into the Halloween season, I still recommend this film. It's just uncomfortable enough to make a great night in.
Happy Halloween everyone!
-Grant