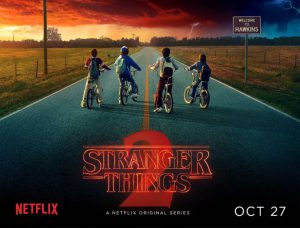 I feel confident in saying that, at this point, I'm pretty sure everyone knows about Stranger Things. It's a genuine phenomenon; this little show, exclusive to Netflix, comes out of nowhere and everyone loves it. However, there were plenty of people (myself included, as I mentioned in my Season One write up a while back) who didn't catch a ride on the Stranger Things hype train when the show first emerged, and, after watching the recently released Season Two, I really hope people who haven't yet checked the show out get around to it. As I expected, the Duffer Brothers created another wonderful season of their hit show, and I enjoyed the heck out of it.
For those who have seen the first season, Season Two picks up almost a year later, back in the small town of Hawkins, Indiana. The kids are running around being their geeky selves, and Will is still getting used to being back in the real world after his stint from the first season. All your favorite characters are back and just as incredible as ever, and the new characters are all excellent additions who really bring the world of Stranger Things to life.
That is where I think this season really excels: bringing the world to life. Sometimes, when a second season of a show comes around, they focus too much on trying to one up the tension of the first season. As the seasons go on, they really reach to find a new huge villain, threat, or problem for the main characters to face, and the world building suffers for it. In this new season, the creators of Stranger Things put extra focus on just creating the world that these characters really live in. The new characters all fit in so perfectly, and show glimpses of life that the main cast don't regularly deal with. There's also a (very controversial) episode that takes place entirely in Chicago, and honestly that was one of my favorites. We got to really see how the unique character traits of this world function in other places, and I feel like the show was stronger for it.
The show is strongest though in its cast. I sang praise for the cast of season one in my last post, and they are just as wonderful and talented here as they were before. Noah Schnapp, who plays Will Byers, was great in the first season, but he wasn't in it a whole lot. This season though, he proved that he is just as talented as the other kids. Two new kids (well, one kid and one teen) found themselves in Hawkins this season: Max, played by Sadie Sink, and Billy, played by Dacre Montgomery. The two actors did an incredible job with the characters, and Billy was my favorite new addition specifically because I hated him so much. Geek icon Sean Astin also has a major role the season, and he was always a joy to watch. It really makes me happy that the new cast was just as incredible as the original.
Though the hype can get overwhelming and annoying sometimes, I think everyone should watch Stranger Things. The aesthetic, the cast, the soundtrack, and everything else in this show work so well together, creating a fantastic bit of media. The show is dark and can be a little scary sometimes, but that shouldn't stop you. Both seasons are available on Netflix, and if you haven't yet got around to watching either of them, do it. It's worth it.
Thanks as always,
Grant