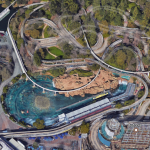 When Spring Break of 2008 rolled around, I was feeling pretty comfortable in my role at the park. I had passed my probationary period, I was picking up on not only how to run the subs, but also how to adjust for their quirks. I was loving the interactions while working "guest control" out along the lines that would stretch around the lagoon and be in excess of 90 to 120 minutes! I also was starting to get a good feeling for guest control shifts during the parades, and during the fireworks.
A day at the park was fairly well structured. You had a sheet you checked when you got in, that told you what position you were on during your shift. From what I recall, you either worked the dock (opening and closing hatches, loading guests, driving the subs), you worked as greeter and grouper (the person who would tell the guests which line to stand in to board their subs), or guest control (telling folks that yes, the wait is forever but yes, it's worth it). My favorite positions were the docks, or guest control, because it took me months to figure out the grouping position. I don't have a head for numbers, and when you had to get people lined up in groups of twenty, and they're coming to you in groups of two to fifteen, it was kind of difficult. Finally, about four months in, I realized that just because all the rest of the cast members were quietly doing this, it didn't mean I had to be! "All right, explorers, let's get ready to board these subs! How many in your party? Three! Three to line one! How many in yours? Seven? Seven with the three in one makes it ten! That is ten, right? How many in the next party? Eleven? Can't fit you on line one, go to line two, if you please!" and so on. Guests had fun with it, I got more comfortable with the position, and it worked.
Back on task, though. Once you got your assignment, you spent your day in your position, rotating around, giving your crew their scheduled breaks and lunches, and so on. This is the part that was most like a standard job, except you had to be careful. If you were scheduled to clock out at 7:50, you did not want to be a sub helmsman going out on an 18 minute run at 7:45! This was something I really had to keep in mind, as my favorite position was on the dock, because it was a definite "spieling" position. Now, for those who don't know, a "spiel" is the script that Disney cast members use at their attraction. If it's spoken during the loading, unloading, or actual operation of the attraction, the chances are it's been approved by management. This is why I really wanted to work the Jungle Cruise, was because it was a fun, funny, heavily scripted attraction (which is part of why Weird Al chose it as the subject of a song based on an actor who hoped he'd be doing more, I assume), so this aspect of the Submarine Voyage really spoke to me. Especially since, after I got comfortable, I started getting my own scripts approved by management.
As this iteration of the attraction was still young, it was still very by the book. To my surprise, no one had really started introducing any nautical puns to it, so I started to borrow a bit from bad pun books, and Kip Oddatta's "Wet Dream" (look it up!). Many of my loading spiels took advantage of this:
Right this way, Explorers! Welcome aboard the Nautilus! Please watch your head and step as you head down the stairs, and if you don't, then at lease please watch your language, because there are little Explorers present! Once you reach the bottom of the stairs, please move all the way down to the end of your row, filling in every available seat! I know we're going to be packed in like sardines, and as a big guy I understand how we all like our elbow room, but please, don't be shellfish!
When you were actually driving the sub, there wasn't much room for spieling, because most of the stuff was pre-recorded. However, this is why I really enjoyed driving the subs on the front dock. You see, there are three dock positions, and depending on how slow the last sub into dock is, you could completely unload and load the first sub before you've even started unloading the last one! This also gave opportunities for some spieling…
Good afternoon, Explorers, and welcome aboard the Nautilus. We will be underway momentarily to take our tour of the Great Barrier Reef, the EAC, and other points, but before we go, I'd like to recommend that if you wish to take pictures, please turn off your flash! First, it'll be dark and we don't want to disturb our fellow Explorers, and second, all you're going to get is, well, a picture of your flash if you don't turn it off. That's kinda what happens with the portholes. Second, I want to touch on a question I get asked fairly often, and that's how these docks have stayed standing, so strong, for close to fifty years. Well, folks, if you look out your portholes now, you can see the answer staring you right in the face. That's right, they're covered in mussels.
Yeah, that one really got a lot of groans, especially as I saw people actually lean forward into their portholes to look outside.
The high point of all of this was, at the beginning of summer, when my former trainer had a trainee of his own, and unbeknownst to me, had brought that trainee onto my sub. When I was waved out after that trip, I was signed off the dock to speak with him. As I walked up, his trainee had his back to me, and the trainer had a stern look on his face. "Tony, I just got off your sub, and I think we need to talk." "Oh, why? What's up? Was I off profile? I thought I was dead on, man. What did I miss?" He waved his hand, and shook his head. "Profile was fine, it always is. That's why I bring the trainees on your subs. It's your spiel. None of what you are using was on the script I provided." I grinned, "Oh, is that it? Yeah, man. That script is boring. I've modified it a bit, and before you say anything, yes, it was approved by management. I'm not that stupid." At this point, his trainee just broke down (turns out his back was to me, because he couldn't keep a straight face) and the trainer grinned and told me he hoped that was going to be my answer, and asked if he could have a copy of the script?
Validation!
Everything was going pretty well, and I even achieved "Helmsman of the Month" status, which gave me props for guest compliments, good working relationship with fellow cast members, and a general good work attitude, and I was told I was being trained on a second attraction.
I had been hoping for either Star Tours or the Monorail as my second attraction. Star Tours, well, would be for obvious reasons: I love Star Wars. Monorail was just cool, and also involved a lot of spieling.
Instead, I was thrown into Buzz Lightyear's Astro Blasters.
Damn it.