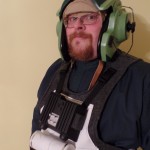 In between a 40+ hour a week job that eats up my evenings, plus working on my "media empire", I don't have much spare time. My Playstation 3 is gathering dust, my gym membership, due to their hours, has become all but useless, and the apartment is trashed after my mad rush to get the A-Wing Pilot done by the Lexington Comic and Toy Convention. So, what do I do next?
First things first, apartment organization. I need to organize all of the reference sheets I have, take stock of my supplies, and figure out adequate storage for the costume pieces I currently have. I need to get the apartment taken care of, top to bottom, and then start anew.
Next, I need to take a look at what I have, and what I want to build. To be honest, I have good starts on two additional costumes.
First, I have BDU's from the reboot of Battlestar Galactica, along with a pistol belt and the double tank top from Anovos. I just need to, well… drop about forty pounds before I can fit in it, again. Please note the comment above about my gym membership becoming all but useless? Yeah, I'm working on how to work around that. While it's a very good gym, there are other ones nearby that are 24 hours, plus I have some co-workers who are also looking at gyms, so we're talking about joining together, and hitting the gym after work, to hold each other accountable. If I could do that, and drop the weight, all I really would need to do is get some rank pins, some dog tags, and a pistol, and I'd be in good shape.
Next, I have the Fallout Vault Dweller gear. This Halloween costume, after some tweaks, additions, and some wear and tear, can become a hall costume-worthy getup, at least until I get a sewing machine and learn how to use it. As this costume fits, it is more than likely going to be the next one I work on. I'm looking into making a better screen for the Pip Boy, as well as making, well, a better Pip Boy. I need a better gauntlet around the arm, working lights and switches, and something cleaner than foam, thrown together in less than a week. I am, however, probably going to use the same patterns and materials, as it's fairly lightweight, and difficult to damage. Plus, I really need to figure out what weapon I would like to put together. I'm thinking I need to get a copy of the Blade Runner pistol so I can carry "That Gun" in a holster, but I also wouldn't mind a rifle to carry. Laser rifle, perhaps?
Sure, I have other costumes I'd love to do, but baby steps. So, how about you? Do you costume/cosplay? What do you think I should work on?
Please don't say "Porkins".
Tony