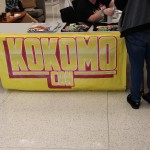 Hey there, my friends! Last week, I wrote about some of my experiences with conventions, with some good tips and tricks for you to make the most of your experience. I also received a lot of good feedback from readers and followers, so this week, just a week before Gen Con, I wanted to do a follow-up to make sure everyone saw these additions, especially those who firmly believe that you don't read the comments. (Pro Tip: On my blog, I look at every comment, so you don't have to. It's a safe place, trust me.)
First off, we have something from new blog friend Chris Meadows, who suggests bringing business cards! Chris says, " Even if you're not in "business" per se, having a little card with your contact and social networking information can still be convenient for when you make new friends, commission artwork, etc. Also, you might want to have along a camera or phone camera that you can use to snap shots of cards other people give you, just in case you lose them." This is some very good advice, and something I took for granted since I've had cards for the last few years. In fact, here is their link to their Free Sample cards. When I used it a few years ago, there was no shipping fees, but it's been a bit, so that might no longer be the case.
My buddy Greg Chaney also commented, "Survival tip: Carry a power pack recharger for your phone or device. There aren't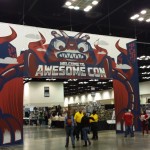 many outlets in the hallways and they always seem to be filled with Apple chargers, The ICC appears to suck out battery life. (And spare memory cards and batteries if you carry a camera. There are always more interesting people and things to photograph that you might imagine)" I can not believe I forgot these things on my list! I'm always carrying with me charge cables and battery packs. My most recent pack, and favorite thus far, is this one I ordered through Amazon (affiliate link) that I carry with me many places. It will charge two items at once, and is great to help a friend out, if they didn't remember to bring their own. Also, trust him when it comes to the cameras. He's one of those gentlemen you see at every con, with really nice camera equipment, taking pictures of just about everything, and he's very good at it!
Over on The Twitter, the post got a bit of conversation going, as well. Longtime reader/awesome person Claire recommended bringing hand sanitizer, band-aids, a Sharpie, and pain killers. She also recommended making sure you're keeping up on those multivitamins, to make sure your immune system is fortified against the Wrath of Con/Con Crud. Overall, people was also very agreeable with most of what I recommended, which helped me feel like I was on the right path.
Now go forth, have fun, watch out for your fellow convention attendees, and for crying out loud, if you see Wil Wheaton, don't sneak pictures or bug the guy. Let him enjoy the con without being cornered, or harassed!
Tony