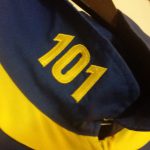 Last week, I talked about wanting to build something.
This week, I'm giving you an update on what I'm doing.
First things first, I've pulled everything out of the closet. I've made a list of what I need to get, I've made sure the Vault 101 suit still fits me (barely, gotta lay off the Fancy Lad Snack Cakes!), and I'm taking a look at what I need to do, and buy, before this is done.
On the jumpsuit front, there's not much to do. I want to add some "leather" cuffs, and I needed a leather piece for the shoulder, so I used a 50% off coupon at Jo Ann's to buy a yard of black pleather ($5.34). As you'll see from the photos below, I have plenty of foam to make the belt and the shoulder piece, and I have plenty of Plasti Dip and Spray Paint to make it all look good, so that will hopefully be the only amount I will spend on the jumpsuit. I just need to figure how to add the cuffs, with limited sewing experience and no sewing machine.
On the Pip Boy front, I have started test-fitting all of the pieces together to get an idea of how much cleanup work I need to do. Not only am I incredibly lucky to have a 3D Printed Pip Boy that was gifted to me by a friend, Devon, but another friend, Mike, has been 3D Printing pieces to help with the size issues with the standard Pip Boy file, as well as printing the hand plate and knob that is supposed to work in conjunction with the Pip Boy. This has led to my first issue, where I need fingerless gloves (okay, A fingerless glove) for this, and the shipping charges online are three times the cost of the actual glove. So, I'm going to have do do legwork on this, or just substitute another glove, and cut the fingers off.
This weekend will let me know whether or not I'll actually be able to get this costume done in time. However, since next week is going to be a week full of "Things to Do" posts, there won't be an update until the 20th. In the meantime, keep an eye on the Instagram for in-progress pictures!
Now, for some pics of what I have so far, and I'll see you all tomorrow, with the Indiana Geeking Podcast!
This slideshow requires JavaScript.